If Only
(2004)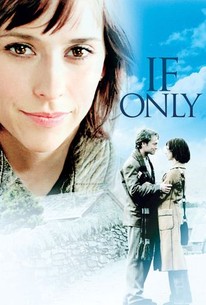 AUDIENCE SCORE
Critic Consensus: No consensus yet.
Movie Info
A lonely singer/songwriter and the man of her dreams take a second shot at love after fate intervenes into their romance in a tearful tale of destiny starring Jennifer Love Hewitt and Paul Nicholls. Samantha Andrews (Hewitt) was studying classical music in London when she first met Ian Wyndham (Nicholls), and the moment they locked eyes both new that it was love at first sight. Their storybook romance takes a turn for the tragic, however, when Samantha dies in a horrific accident shortly after the pair have their first major argument. Stricken by inconsolable grief and touched by the forgiving hand of merciful fate, Ian now has one chance to take it all back and relive that fateful days before he truly loses the love of his life once and for all.
Critic Reviews for If Only
All Critics (3) | Fresh (1) | Rotten (2)
If Only this weren't one of the sappiest, stupidest, silliest, and most vacuously meaningless romantic comedies I've ever had the misfortune to waste 96 minutes of my life upon ... I'd have some nicer things to say.
it's too maudlin and depressing to make for a good romantic drama and it's way too sappy to work as a drama/thriller
May 21, 2006 | Rating: 2.5/5
Audience Reviews for If Only
Cynthia S.
Super Reviewer
I saw this movie about two-three year ago and I was very impressed with the whole story. The action happened in London, UK, where the beautiful American actress Jennifer Love Hewitt interpreting Samantha Andrews was studying music. She and her British colleague Paul Nicholls interpreting Peter made a beautiful couple, but they had problems; he was somehow being inattentively with her feelings until the moment she had an accident and died. He was devastated until he got another chance. The day that she died was repeated but with differences and the most important at the end of the day he made a sacrifice and saved her, giving his live in exchange. The hole thing about getting another chance of doing something different, better is great and captivated me..
Mouhannad Sawas
Super Reviewer
½
A Romantic drama that seems to have been missed by most. Jennifer Love Hewitt and a few familiar English faces pop up in this. Set in London a man gets to relive a day in which things didn't work out between him and his girlfriend before she is in an accident. Will he be able to change the path of destiny and save her second time round? Quite similar but not quite as good as Sliding doors, which had the same type of plot and also set in London. If you like romantic films which deal with fate and destiny you will like this. Don't mistake it for a Rom-Com though, not much to laugh at here.
If Only Quotes
| | |
| --- | --- |
| Ian Wyndham: | What would you do if you have one day left to live? |
| | |
| --- | --- |
| Ian Wyndham: | "I adore you" |
| Ian Wyndham: | I adore you. |
| Samantha Andrews: | "I don't want to be adored....I want to be loved" |
| Samantha Andrews: | I don't want to be adored... I want to be loved. |