Rigged (Fight Night)
(2008)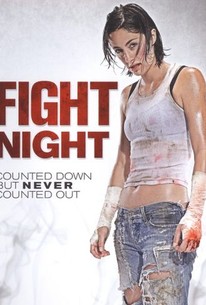 AUDIENCE SCORE
Critic Consensus: No consensus yet.
Rigged (Fight Night) Photos
Movie Info
A man on the run discovers the greatest fighter he's ever seen in this road movie filled with comedy, action and drama Michael (Chad Ortis) is a small time con artist who drifts from one town to another, trying to run his next scan while escaping the fallout from the last. Michael's specialty is setting up illegal underground boxing matches where a pair of bare-knuckled fighters square off and Michael runs off with most of the gate money. While on the road, Michael meets Katherine (Rebecca Neuenswander), and when he sees her fight he's convinced his ship has come in. Katherine is a beautiful woman who also had remarkable talent in the ring and can knock out a man nearly twice her size; with Katherine, Michael is convinced he'll never have to fix a fight again, because no one would believe that she could win a fair fight until they've actually seen her in action. Michael persuades Katherine to take him on as her manager, but while victory is sweet for a while, it doesn't take long for his old enemies to catch up with him, and soon Michael and Katherine have to deal with Clark (Kurt Hanover), an underground fight promoter who has a score to settle with Michael. Rigged is the first feature film from director Jonathan M. Dillon.
Critic Reviews for Rigged (Fight Night)
All Critics (2) | Fresh (2) | Rotten (0) | DVD (1)
'Fight Night' (AKA Rigged) is no classic but it works the fight movie formula well enough to make it a winner.
A wildly improbable but often diverting effort that mixes ring action with a relationship movie.
September 26, 2008 | Rating: 2.5/4
Audience Reviews for Rigged (Fight Night)
½
[img]http://images.rottentomatoes.com/images/user/icons/icon14.gif[/img]
Directors Cat
Super Reviewer
29/08/2010 (ONLINE)

A good movie if you don't value your time. It's not that bad but it is one of those average flicks that you'd probably catch on TV in the afternoons. It was nice though for a change to see girls kick but and be the hero.

I could tell though when watching the movie that the main star was debuting just by the way she performed, I mean it's not bad but it was obvious. Well, I hope it's her debut because that would be shocking if it wasn't.

A very ordinary flick that I watched because the cover looked cool. I really need to stop doing that, it's such a bad habit.
EightThirty .
Super Reviewer
Wow! All you twats out there, Rebecca is in town. Watch out... And learn to pronounce her name: it's Rebecca Neuenswander, and she kicks ass. Literally! This amateurish film is a perfect dyke vehicle. Forget the Million Dollar Baby. There is no ring here, no gloves, just the street, a couple of hard fists tied up with tape and a lot of blood. Unfortunately there isn't a director, too. Not of the caliber of Eastwood, of course. Considering that this is Dillon's first film, the outcome is impressive, though. The script itself is not so bad, it's actually quite smart- but the photography is uneven. Good at times, and very bad when you don't expect it to be. Chad Ortis delivers just fine. I wish the ending was different too- and not happy-go-straight, so that I could rate this with a 5.
Anastasia Bartzoulianou
Super Reviewer
Rigged (Fight Night) Quotes
There are no approved quotes yet for this movie.