To Kill a King
(2003)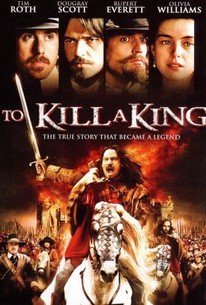 Movie Info
British filmmaker Mike Barker directs the political costume-drama To Kill a King. Set in 1645 at the end of the English Civil War, General Thomas Fairfax (Dougray Scott) celebrates the victory with his right-hand man Oliver Cromwell (Tim Roth). While, King Charles I (Rupert Everett) is held prisoner, he appeals to the sensibilities of Fairfax's wife, Lady Anne (Olivia Williams). The old friends disagree over what to do about the king; Fairfax is willing to compromise and Cromwell is far more strict. The Speaker of the House, Denzil Holles (James Bolam), leads a group of conspirators to make an illegal deal with the king, but they are discovered and subsequently punished. The king is put on trial and executed, making Cromwell in charge. The conclusion involves a reunion between Fairfax and a dying Cromwell.
Critic Reviews for To Kill a King
All Critics (5) | Fresh (3) | Rotten (2) | DVD (1)
To Kill a King is no Man for All Seasons, that poem to destiny and betrayal, but it exudes intelligent energy. What emerges is a dark, noisy history lesson viewed through the filter of a power struggle that spirals out of control.
Scrupulous period accuracy is not expected from this genre. Even so, Jenny Mayhew's screenplay is preposterously reductive. It boils history down to a platonic love affair between Fairfax and Cromwell. The incidents she invents are badly dramatised.
Audience Reviews for To Kill a King
½
I enjoy English history. I am always looking for a well acted, good story, that has been put together well. I felt that this movie was almost that. It seemed to lack that certain something, though, that made it really good. Not enough drama. Not enough action (definitely not). All in all, however, I found it interesting...
Cynthia S.
Super Reviewer
½
[font=Century Gothic]"To Kill a King" starts in 1645 as the English Civil War between the royalist forces defending King Charles I(Rupert Everett) and rebel forces favoring Parliament is finally winding down with the latter being victorious. Despite that, Oliver Cromwell(Tim Roth) still has to save his comrade in arms Lord Fairfax(Dougray Scott) from an assassin. All that is left to do is to have the king sign a treaty, allowing reforms to kick in. But he is not beaten yet, bribing Holles(James Bolam), the leader of Parliament, to win a vote, thereby angering Cromwell and Fairfax no end...[/font] [font=Century Gothic][/font] [font=Century Gothic]With too much ground to cover with a limited budget, "To Kill a King" is a shallow and dry treatment of an important bit of history that errs by focusing primarily on the relationship between Cromwell and Fairfax(and also a lot on Fairfax and his wife Anne(Olivia Williams)) without giving any insight into whether Cromwell actually believed his rhetoric on reform or was just power mad. What may have worked would have been a focus on one particular moment, say the debate concerning the execution of the king and everything that would imply. As revolutions go, this one went too far(so many unnecessary deaths) and not far enough(no real reforms). Anyway, the reforms that Parliament was calling for would come in effect peacefully in 1688.[/font]