The Lodger
(2009)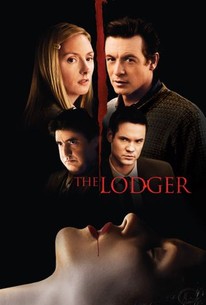 Movie Info
Malcolm Slaight arrives at the home of Joe and Ellen Bunting. Ellen is happy to make a little extra money, but also becomes enamored by the charm and eccentricities of this mysterious Lodger. Meanwhile, police detective Chandler Manning begins to track a ruthless killer slaughtering prostitutes along West Hollywood's Sunset Strip. This killer's methods are identical to that of London's infamous psychopath, Jack the Ripper. This is especially troublesome for Manning because earlier in his career he brought a killer to justice who also mimicked Jack the Ripper. Closing in on the killer, Manning finds himself following a trail that leads to a secluded residence located just off the Sunset Strip--right near the Bunting home.
Critic Reviews for The Lodger
Audience Reviews for The Lodger
½
A clever well-made and suspenseful updated remake of Alfred Hitchcock's 1927 silent film classic of the same name. It concerns a mentally troubled Landlady, played by Hope Davis in a beautifully realized performance who lives a quiet dull life with her husband and young son, one rainy day a handsome and mysterious stranger, played superbly by Simon Baker shows up at her door, wanting to rent her guesthouse, his arrival coincides with a series of brutal murders of young prostitutes off West Hollywood. Alfred Molina plays a obsessive police detective with a strong conviction and believability, it is a terrific portrayal he is determine to catch this copycat killer who murders his victims in the same fashion as the legendary serial killer Jack the Ripper, Shane West is excellent as Molina's rookie partner, there also are superlative supporting performances by Rachael Leigh Cook, Philip Baker Hall, Mel Harris, Rebecca Pidgeon and John Hammil. Solid direction by David Ondaatje, who's screenplay does a great job of keeping you guessing right to the very end, that has a surprisingly good double twist of an ending that is a real killer. The film has a haunting visual quality thanks to the exceptional cinematography by David A. Armstrong, and a moody score by John Fizzell that is perfect. A worth-while and marvelously entertaining chiller. Highly Recommended.
Danny Rovira
Super Reviewer
Okay thriller, seen better, seen worse.
Nicki Marie
Super Reviewer
This is a fairly surprisingly good film with great twists and turns that ive seen in a very long time! its really worth a watch!!
Film Crazy
Super Reviewer
The Lodger Quotes
There are no approved quotes yet for this movie.