Crips and Bloods: Made in America
(2008)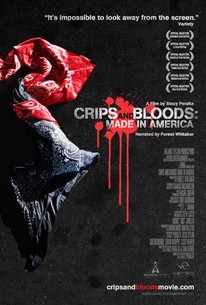 Crips and Bloods: Made in America Photos
Movie Info
Narrated by Academy Award-winning actor Forest Whitaker, Dogtown and Z-Boys director Stacy Peralta's unflinching documentary chronicles one of the longest-running civil wars in the history of America though a deeply humanistic lens. The Bloods and Crips are two of South Los Angeles' most notorious African-American gangs. While many outsiders simply cannot understand the decades-long cycle of despair and destruction that has come to define their daily lives, the individuals who comprise each gang are not simply mindless, gun-toting thugs, but real people with real families who have become caught up in a struggle from which the only escape is often death. Beginning with an illuminating look at the genesis of L.A.'s gang culture, Crips and Bloods: Made in America follows the bloody feud that would stretch on for a grueling four decades, revealing the turf wars, hierarchy, family structure, gun culture, and stringent rules through interviews with gangsters past and present, as well as experts, activists, and academics. Throughout the film, the numerous issues blanketing the streets of South L.A. with a deep sense of dread are reflected upon by gang intervention experts, former gang members, writers, and academics in an effort to examine the erosion of identity that helps to perpetrate black self-hatred, prison culture, and the disappearance of the black father in the home.
Critic Reviews for Crips and Bloods: Made in America
Audience Reviews for Crips and Bloods: Made in America
½
"Crips and Bloods: Made in America" is an incisive inside documentary about the infamous Los Angeles gangs whose conflict over the past forty years have resulted in over 15,000 deaths. While that same early mortality prevents the filmmakers from putting together a cohesive oral history, they still find plenty of current and past gang members, some of whom have not left their own block or territory in decades, in order to get their stories. Overall, this all began even before the founding of the gangs, going back to the migration of black families from the deep south. They found a living situation that was better than the one they left of course but also one where where their children would face police brutality which would eventually lead to the Watts Riot.(The documentary with some nostalgia refers to this as an uprising.) That would prove no matter how much violent resistance there is, the resulting crackdown will be that much worse. At the same time, "Crips and Bloods: Made in America" relies on too much background, even rewinding back to the beginning at one late point. Also, the documentary quotes the cliche of the lack of a male role model, when it fails to take in consideration the extremely high unemployment rate amongst young black men which Bernie Sanders has just stated is around 50%.
Perhaps the most important functions that a documentary can serve today is to step in when the mainstream media has failed. On issue that the media has most definitely failed in this world of national security, foreign wars, and widespread policy debates are the problems plaguing the inner city. It was indeed refreshing to see a documentary that deals with these issues that people seem to have forgotten about since the early 90s. In principle I find the documentary?s message that the Crips and Bloods emerged because of the way society silenced any mainstream form of black empowerment. Unfortunately there were aspects of execution that held this film back from achieving its full potential. The film starts strong, painting a strong picture of what it was like to be a black man in 60s Las Angeles, then shortly after its vivid depiction of the Watts riots it suddenly flashes forward to the present and begins playing a ton of interviews with gang members. These are interesting interviews, but they are simply played at random and feel like an interruption of the film?s narrative. It feels like they had a lot of good footage that they insisted on shoehorning in. The film eventually recovers, but never regains its momentum. This was a fairly good watch but it could have been a whole lot better.
½
What starts out as a great doc eventually becomes a potential TV special. The doc starts out strong, explaining the beginnings of gang mentality and how oppression brought about the need for disenfranchised youths to band together. Then sadly, it just breezes over the formation of the Crips and Bloods, and what made them what they are. Lots of interviews with gang members, some who have left the gangs to start community organizations, but it feels more like a anti-gang promo than a real documentary. After enjoying fictional shows like The Shield and Southland I am really curious to have a real look at South L.A. Unfortunately I don't think this is it.
Christopher Brown
Super Reviewer
Crips and Bloods: Made in America Quotes
There are no approved quotes yet for this movie.