Home
(2011)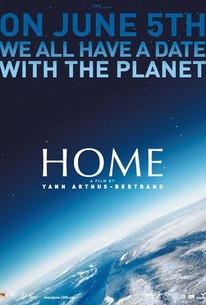 Movie Info
More than a film, HOME was conceived as a gift to the public and has been a major event all over the globe. Since World Environment Day, June 5, 2009, when it was released worldwide across all media platforms - theater, television, DVD and Internet - more than 400 million people have watched the 118- minute film. On the day of its release, free screenings took place across 5 continents. Today, the film has been translated into many languages, broadcast on numerous televisions channels and seen over 15 million times on YouTube. Now, for the first time ever, Yann Arthus-Bertrand is bringing this exceptional film to New York Seeing HOME on the "BIG SCREEN" is truly an astounding cinematic experience - a soulful voyage, a feast for the eyes, a thought-provoking and unforgettable journey. -- (C) Official Site
Audience Reviews for Home
Kyle Meisch
Super Reviewer
Yann Arthus-Bertrand is one of the few photographers who knows how to make the best shot... every time! His camera work in this film is unreal. We have very little time to change and the majority is still not aware of that. When 20% of the world's population consumes 80% of it's resources, the world spends 12 times more on military expenditures than on aid to developing countries and 5000 people a day die because of dirty drinking water - it's time to wake up! And this movie is a great tool to create that awareness.
Home Quotes
There are no approved quotes yet for this movie.
Discussion Forum
Discuss Home on our Movie forum!