Nollywood Babylon
(2008)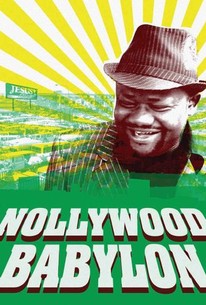 Movie Info
Hollywood and Bollywood watch out; in this documentary examining Nigeria's booming movie industry, filmmakers Ben Addelman and Samir Mallal highlight the reasons why it doesn't take a multi-million-dollar budget to produce a wildly entertaining movie. Idumota market, Lagos: amidst the hustle and bustle of the endless stalls, movie stars are born. Nigeria is a place where traditional mysticism and modern culture clash to form an atmosphere where anything seems possible. Perhaps nowhere is this more evident than in the inventive, low-budget B-movies produced by enterprising local filmmakers with no goal other than to entertain the viewer. From the epicenter of this African metropolis emerges a new breed of cinema known as Nollywood, a brand of film that's remained a well-kept secret...until now.
Critic Reviews for Nollywood Babylon
Audience Reviews for Nollywood Babylon
Very entertaining documentary about the Nigerian film industry and how home grown fare with little budget and amateur performers can be a draw for a public which wants anything produced in the native language. Very funny at times.
John Ballantine
Super Reviewer
Underwhelming. Unlike "Not Quite Hollywood" this film didn't leave me with a laundry list of movies to see. While the number of films put out by Nollywood is impressive, as the documentary says "the great Nigerian film has yet to be made." Combine that with the fact that most of the films from this industry are only available for sale in the streets of Lagos, makes this entire industry at best a foot-note of interest.
Ken Stachnik
Super Reviewer
Nollywood Babylon Quotes
There are no approved quotes yet for this movie.