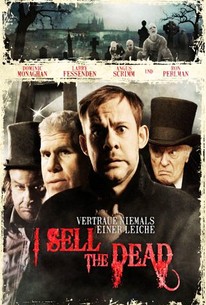 I Sell the Dead
2008, Horror/Comedy, 1h 25m
45 Reviews
5,000+ Ratings
What to know
critics consensus
A horror comedy that's almost as chilling as it is funny, I Sell the Dead relies on its dark humor and offbeat charm to overcome its low budget shortcomings. Read critic reviews
Rate And Review
Movie Info
Arthur Blake (Dominic Monaghan) is about to be executed by guillotine for the crime of grave robbing. But before he faces the blade, he agrees to confess to Father Duffy (Ron Perlman) in the hope that the priest might be merciful enough to spare his life. Arthur tells his life story to the priest, which begins with him stealing valuables from the deceased as a youth. But as he relates his battles with zombies, ghosts and other fiendish ghouls, his tale takes a turn for the supernatural.
News & Interviews for I Sell the Dead
Audience Reviews for I Sell the Dead
I thought this movie was fun more than anything else. Sure the budget is definitely very low, and very noticeable, but it's a movie that has an sort of odd charm to it and a fun cast to carry things. While the movie has a dark subject matter, I think the movie plays out in a light and fun manner. It's a movie that's not gonna take up a lot of your time nor do you have to think all that much, but it will find a way to entertain you in that time and that's what the movie is concerned about and it succeeds. Unfortunately, the movie is only JUST good, I just felt that there was something missing that would've raised it to a higher level, and I don't think it's the budget, but something was still missing. That being said, the movie is still quite fun to watch and a fine way to spend 80 or so minutes.

For the lost (lol, Lost) member of Oasis and/or Blur, Dominic Monaghan easily made this movie for me. His comedic timing made otherwise-mediocre comedic moments into laugh-out-loud moments. Ron Perlman made for a nice foil (at least until the very end). The other actors were decent, and I also appreciated the sets, clothing, and accents, which seemed well done. Alas, on the whole, the film felt like a sitcom trying to be a movie, as if the story were written around a few pretty good jokes as opposed to pretty good jokes being written into a good storyline. Of course, for someone playing writer/director/producer and it being his feature film debut, Glenn Mcquaid did a commendable job, and I look forward to his future work. spoilers The faux-Guy Ritchie/Tarantino introductions for Murphy's gang don't work for me though the ideas behind the characters aren't bad. They're rather jauntily thrown into the whole of the film, just like the formulaic glimpse into Cornelius Murphy's childhood psychology. Cornelius' initial introduction earlier in the film sufficed. I liked how the film introduced the element of the undead though. The stabbing/pulling out of the stake was a nice scene, and the later corpse being so disgusted at Valentine's face that he breaks out of his cage and attacks/kills her certainly worked for me, too. I also rather enjoyed the Perlman-Monaghan dynamic--they made for nice foils. On the other hand, I didn't feel the story was developed enough to truly earn its ending. The twists weren't bad but could've been much better if the characters had been better fleshed out and if it weren't for the stylistic comic effect at the very end. end spoilers

"I Sell the Dead" starts with Willie Grimes(Larry Fessenden) losing his head. Before his partner Arthur Blake(Dominic Monaghan) loses his, Father Duffy(Ron Perlman) drops by to see if he has anything to confess to before it's too late. Arthur cops to the body snatching but not the murder they have been convicted of, in telling the story of how Arthur and Willie first started working together. Eventually, they fall under the thumb of Dr. Quint(Angus Scrimm). As it becomes harder to find bodies, things take an interesting turn in their line of work... While not having much of a story to speak of, "I Sell the Dead" still has more than enough ghoulish fun to go around. That's not to mention the inventive spin it puts on the trappings of the genre and some atmospheric scenes. So, it is a shame about the sexism which drags down the laddish fun.

I Sell The Dead is the story of two grave robbers who recall their days of grave robbing before being hanged. The film is slow, and seems to take forever to reach the end. But despite this, the film is quite enjoyable and fun to watch. The actors give fine performances and this is a fine debut for Glenn Mcquaid. If you love a low budget zombie flick, pick this impressive Horror Comedy up, despite its slow pacing it's a strong film with a few memorable and funny scenes. I sell The Dead is a terrific little film that will definitely appeal to zombie fans. It's a different take on your average zombie film, and it's very well done. The acting in I Sell The Dead is decent enough for this type of film and the film in parts is fairly creative, taking into account that Horror is pch stale. The film is of course in perfect, but it manages to be pretty good and entertaining. The cast features some impressive names, including Phantasm actor Angus Schrimm and Lord Of The Rings actor Dominic Monaghan. I Sell The Dead is a not a flawless film, but is a fair enough film to consider watchable. I enjoyed it and I thought that Glenn Mcquaid did a fine job directing this zombie comedy. This film is much better than most big buhorror films that make it into theatres and is very original, which is something that lacks in todays horror films. People are afraid of trying something inventive, and I Sell The Dead is most certainly that. A very good horror comedy that at times feels like it could be better, but in the end is pretty good considering it's a low budget picture.
See Details