The Echo
(2008)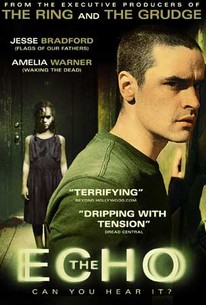 AUDIENCE SCORE
Critic Consensus: No consensus yet.
Movie Info
An ex-convict returns to his late mother's apartment and grows increasingly paranoid after hearing strange sounds emanating from somewhere deep within the building. Bobby Walker (Jesse Bradford) paid his debt to society, and now the time has come to begin rebuilding his life. As a condition of his parole, Bobby moves into his mother's old, inner city apartment and starts reaching out to some old friends. Unfortunately for Bobby, no one answers. Meanwhile, as the girl Bobby loves seems to drift ever further away, he begins to hear the same sounds that his mother once complained about echoing through the hallways of the building. At first it's just a minor nuisance, but when Bobby begins to catch the sound of violent confrontations from an adjacent apartment, he quickly realizes that something is horribly amiss. ~ Jason Buchanan, Rovi
Critic Reviews for The Echo
All Critics (1) | Fresh (0) | Rotten (1)
...just another unpleasant, interminably paced horror effort that's been modeled after (superior) predecessors like The Ring and Dark Water.
Audience Reviews for The Echo
½
It looks like this horror fest hasn't started out somewhat roughly this year, as I have seen no good movies yet and it doesn't look to get any better tonight as I have rented The Darkness. Maybe it'll surprise me, but I don't expect much from it. Which begs the question as to why I rented it in the first place, but what's done is done and I can't change it. I mean I could, but I would have wasted $1.50 that I can't get back, so I may as well just watch it. Though, and I seem to have said this with every movie in the horror fest so far, this isn't a bad movie in the conventional sense. It's not poorly written, though some might make the case for it, the acting is fine and the atmosphere is, at best, decent. But, really, the thing that holds this movie back from being better, or even average, is the fact that it just feels like something that's constructed from other, better movies. The movie really doesn't make any effort to hide its influences in any way whatsoever. That both is and isn't a problem. It's a problem in that you can't help but think of movies like The Ring all the while you're watching this. You can't help but think of how better it could be if it didn't feel so lazily constructed. But it's not so much of a problem in that, yet again, films like this need to exist. Just a horror movie that you can watch and be done with it without it being reasonably taxing on your brain. Yes, it might not be good, but as far as just sitting down and watching a horror movie without it taking a lot out of you, then this is perfectly fine. It should have been better, for sure, I'm not arguing against that. But sometimes that's just the reality of this business. It's a movie that's obviously better to watch with a group of friends. It won't scare anybody, though they make a good effort at making the ghosts appear 'creepy', but it's not a movie that has a lot of scares and it's not really even necessarily about the scares themselves. One of the things I did like about the movie, though it wasn't great, was the fact that this 'hearing voices' was really just the fact that the cycle of violence kept happening over and over again and the only way to stop it was for someone to just stand up to help. It might have been a little corny, but I think it fits with what they were trying to accomplish with their story. So at least it made some sort of sense, even though, again, it's a bit cornily executed. And that's about it really, the movie doesn't really offer much in the way of quality scares or storytelling, but it's a perfectly decent little movie that you will forget in a week. It won't satisfy super hardcore horror fans, but it will hold their interest for its running time.
Jesse Ortega
Super Reviewer
½
This movie started out decent. However it seemed the scriptwriter could not come up with an ending, so they just faded out at the end. Could have been a better movie if they had tied up the ends. This seems to happen alot in these kinds of movies. It's a shame...
Cynthia S.
Super Reviewer
A very scary ghost film with creepy scenes\imagery. Interesting story, too.
Jacob Palacio
Super Reviewer
The Echo Quotes
There are no approved quotes yet for this movie.