20 Centimeters (20 Centimetres) (20 centímetros)
(2005)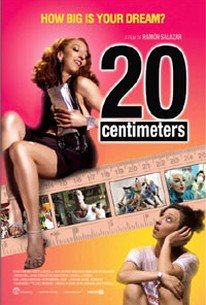 20 Centimeters (20 Centimetres) (20 centímetros) Photos
Movie Info
A fantasy-prone transvestite who is looking to make the leap to transsexual status imagines that he is the star of a lavish universe punctuated by elaborate musical numbers in director Ramon Salazar's stylish sophomore feature. Adolfo (Monica Cervera) is a die-hard romantic who currently shares a cramped apartment with Tomas (Miguel O'Dogherty). Though he was born a man, Adolfo prefers to go by the name Marieta, and is currently stashing away the money needed to shed the male appendage that is holding him back from full womanhood. Sex-change operations don't come cheap, though, and in order to raise said money Marieta must first land a decent-paying job. Though one successful interview does find Marieta hired as a railroad-station cleaner, the exhausted worker immediately falls asleep on the job and is quickly fired for doing so. It is in his sleep that Marieta truly comes alive, though, and after falling asleep during a conversation at a nearby market, the dreamland Ginger Rogers is pulled to safety by handsome stock boy El Reponedor (Pablo Puyol). As an intensely sexual relationship begins to develop between Marieta and El Reponedor, the aspiring transsexual discovers that even if he himself doesn't appreciate his one defining male characteristic, there are others out there who most certainly do.
News & Interviews for 20 Centimeters (20 Centimetres) (20 centímetros)
Critic Reviews for 20 Centimeters (20 Centimetres) (20 centímetros)
Audience Reviews for 20 Centimeters (20 Centimetres) (20 centímetros)
Visually stunning, somewhat weird but colourful. It's a comedy that is hard to describe, but it's a scrutiny on the world of transexuals, plus it's a musical, what a combination!!!! There's lots of symbolism and subtext, how a transsexual prostitute views the world and the contrast of the harsh reality was impressive.
Sylvester Kuo
Super Reviewer
"A narcoleptic transsexual prostitute finds herself transported into a musical world in which she is the star whenever she falls asleep." Could this movie be any more AWESOME?
Robert Fearon
Super Reviewer
½
[font=Century Gothic]In "20 Centimeters," Marieta(Monica Cervera) is a narcoleptic pre-op transsexual prostitute who lives with Tomas(Miguel O'Dogherty), a dwarf who just inherited a cello from his aunt.(Well, there is something you do not see everyday.) In order to buy opera tickets for the purpose of scalping them, Tomas borrows money from Marieta that she has saved for her operation.[/font] [font=Century Gothic][/font] [font=Century Gothic]At its heart, "20 Centimeters" is a touching movie about a friendship between two people living in an often hostile world. The movie owes a little to Dennis Potter in how it uses musical numbers to contrast Marieta's inner fantasy life with the harshness of the real world. And I was especially impressed that instead of shying away from Marieta's sexuality, the movie instead takes a fearless approach in depicting it as anything but passive.[/font]
20 Centimeters (20 Centimetres) (20 centímetros) Quotes
There are no approved quotes yet for this movie.