20-seiki shônen: Honkaku kagaku bôken eiga (20th Century Boys 1: Beginning of the End)
(2008)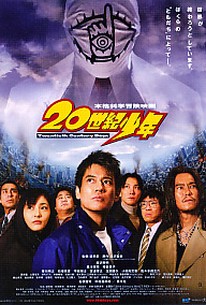 Movie Info
A burned-out rocker discovers his doom-struck adolescent fantasies are coming true in this futuristic thriller from Japan. Ever since his career as a musician crashed and burned, Kenji (Toshiaki Karasawa) has been making a living working at a quick-stop store and living with his family. One day, police officers stop by and ask Kenji about a family of regular customers who've gone missing, though Kenji has hardly noticed their absence. When Kenji visits the home of the missing family, he notices a strange piece of graffiti on the wall, and is startled when he remembers it was the symbol of a club of teenage misfits he belonged to years ago. Kenji and his friends in the club created an amateur comic book that imagined an apocalyptic future in which strange illnesses and bands of armed insurgents threatened to destroy the world. As a wave of unexplained murders sweeps through the city, overseas the events of Kenji's old comic are beginning to come true; a fanatical cult known as Friend found the book and under the leadership of Sadakiyo they've made it their business to turn it into a reality, and now Kenji and his old friends have to infiltrate the cult and stop them before it's too late. 20-seiki shonen (aka 20th Century Boys) was adapted from a best selling manga by Naoki Urasawa and became a major box office hit in Japan. ~ Mark Deming, Rovi
Critic Reviews for 20-seiki shônen: Honkaku kagaku bôken eiga (20th Century Boys 1: Beginning of the End)
Audience Reviews for 20-seiki shônen: Honkaku kagaku bôken eiga (20th Century Boys 1: Beginning of the End)
½
Somewhere between Twelve Monkeys and It, rests this rather brilliant epic, sic-fi, Japanese thing. And it's absolutely Japanese, from the fight choreograhpy to the "end of the world via giant robot" spiel. But it's strength lies in it's writing and the way it slowly reveals itself - much like "Friend", by way of flashbacks to a childhood game that one of them took to the extreme. Recommended for anime/manga fans.
Marcus Woolcott
Super Reviewer
½
This is a pretty good movie. I've been watching a few Asian movies at the moment and fit right in there. Its a quite clever story that I have not heard or seen before and I enjoyed it. If only the acting was more improved and the special effects directing was not at all jaw dropping.
Alexander Wilson
Super Reviewer
½
Yukihiko Tsutsumi gets the honor of bringing the popular 20th Century Boys manga to life. As you may have guessed, T. Rex's famous song, "20th Century Boy" is an inspiration for this.
At 2 hours and 20 minutes, this movie alone is not enough, which is why this live action adaptation is only the first chapter with an ending that indicates a chapter 2. One of the disappointing aspects of this movie is that it takes a while to pick up because a lot of time is spent on the character buildup and the story background. This isn't a bad thing, but the film seems pretty uneventful for more than the first hour. Nonetheless, the buildup is nicely done and important, albeit attention is required.
The film spans multiple decades. We are talking from the 1960s up to the year 2014, with the bulk of it taking place in the 90s and 2000. Why am I mentioning this? Well, the film jumps around a bunch, which in the beginning, makes the characters a little difficult to follow and remember. There are a good number of characters by the way. On the positive side, the jumping around in time keeps the story interesting.
Eventually the second half of the film focuses on the older versions of the characters as they reunite to fight evil. This is similar to Stephen King's It. The effects are nicely done and the only a few plot holes really hurt the latter segments.
Toshiaki Karasawa carries this film without a problem and most of the supporting cast do their jobs, including the beautiful Takako Tokiwa.
20th Century Boys takes a while to get going, but it is interesting enough to make those that haven't read the manga want to.
20-seiki shônen: Honkaku kagaku bôken eiga (20th Century Boys 1: Beginning of the End) Quotes
There are no approved quotes yet for this movie.