29th Street
(1991)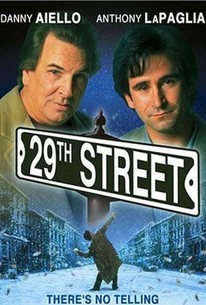 Movie Info
This film tells the story of Frank Pesce, the blue-collar worker who won $6,000,000 in New York's first state lottery. Rather than concentrate on Pesce after his windfall, the film takes place on the night of the lottery drawing, with the protagonist reflecting on his past experiences.
Rating:
R
Genre:
Directed By:
Written By:
In Theaters:
On DVD:
Runtime:
Studio:
Anchor Bay Entertainment
Critic Reviews for 29th Street
Audience Reviews for 29th Street
This is an all time classic. Most people probrably never saw or heard about this movie but they should watch it right away. Do yourself a favor and watch this movie.
Courtland Pozzi
It's a shame that more people don't know about this film. I suppose most reviews start out this way, but it's true; once you've seen this unknown treaure you just want to share it with everybody who enjoys good movies. 29th STREET is the more or less true story of Frank Pesce Jr. winner of $6.2 million dollars in the first New York State lottery and of his very New York Italian family--if you've ever lived next door to one you know what I mean; everything is screamed rather than spoken, certain expletives are used liberally, a casual question turns into World War III, and they have a unique attitude toward the mafia. (Our next door neighbors all managed to move to Florida based on their father's career running numbers for the mob. Guess the lottery killed that job.) Anyhow, 29th STREET is advertised as "GOODFELLAS meets IT'S A WONDERFUL LIFE", and I can see why they make that claim. It's a feel good kind of movie with no death and no violence inspite of the mafia's presence--the whole thing has a sort of Damon Runyon flavor to it in that respect. But its real story centers around Pesce's family and in particular his relationship with his father. This movie has got it all, it's funny, its touching, and the acting is Oscar worthy with truly stunning performances from Danny Aiello as the father and Australian born Anthony LaPaglia as the son. Try it, you'll like it. (By the way, before you get bent out of shape, I'm half Italian too.)
karen shaub
"29th Street" is the semi-autobiographical account of the life of Frank Pesce (who stars in the role of his own brother in the movie), a directionless, young Italian-American who hits it lucky when he is entered in the first ever New York State lottery. Everyone is convinced that Frank is going to win such has been the amazing luck he has experienced during his life. Compare this to his hard-working, blue collar father who has endured, rather than enjoyed, his. While the screenplay is solid and deals well with the opposing issues of love and resentment, it's the two central performances that primarily shine. Anthony LaPaglia (playing Frank) became my favourite actor once I saw this movie in 1992. His ability to play different shades, delivers goosepimples as he delivers his lines. It's a masterful performance by a man as relatively inexperienced as he was then. Screen veteran Danny Aiello (playing his father), is perfectly cast as an honest but occasionally maladroit man whose influence over his family visibly decreases by the day. "29th Street" is an engaging sleeper hit.
Graham Lacey
29th Street Quotes
There are no approved quotes yet for this movie.
Discussion Forum
Discuss 29th Street on our Movie forum!