49th Parallel (The Invaders)
(1941)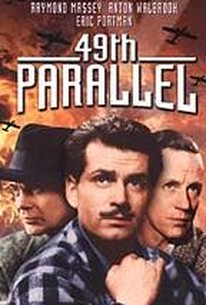 49th Parallel (The Invaders) Photos
Movie Info
49th Parallel is a British wartime entreaty for Empire solidarity, concentrating on rousing the patriotic fervor of the citizens of Canada. A group of Nazi naval officers and crewmen are stranded on Canadian soil (we have no sympathy for the castaways, inasmuch as we have just seen them refusing food and water to a group of torpedoed British seamen). Led by lieutenant Eric Portman, the Nazis try to stir up sympathy amongst the Canadians, beginning with apolitical Quebeckian trapper Laurence Olivier. Failing to convert Olivier--even by force--the Germans move on to a Hutterite farming community, where again they are unsuccessful in winning adherents (though, conversely, German seaman Niall Mac Ginnis defects to the other side). They then cross the path of professorial author Leslie Howard, who is living amongst the Indians to soak up "local color". Even Howard proves too formidable for the Nazis, and by film's end the surviving invaders are hiding out in a train, where they are discovered and captured by AWOL Canadian soldier Raymond Massey. Most TV viewers know 49th Parallel under its alternate title, The Invaders. ~ Hal Erickson, Rovi
News & Interviews for 49th Parallel (The Invaders)
Critic Reviews for 49th Parallel (The Invaders)
Audience Reviews for 49th Parallel (The Invaders)
It's Canada and the Nazi's are not only a pain to Poland, to Europe but, holy smokes, they're in Canada as well. Can 11 million red-blooded, Canadians put 6 goosestepping, Hitler-loving, nogoodniks in check, in time"? This bit of English made wartime propaganda is especially interesting as the action happens episodically and across the lower half of the country. And its message is far less over-the-top than most American productions ever were.
Kevin M. Williams
Super Reviewer
I know this film was meant to rally the US to take action in the war effort, but 49th Parallel is a propaganda film whose polemics would make Eisenstein blush. Plus, Olivier doesn't just chew the scenery, he swallows it whole.
Jonathan Hutchings
Super Reviewer
sure it's wartime propaganda but it's stylishly done and wonderful fun. we'd expect nothing less from the archers. a stranded u-boat crew tries to make their way to safety across canada after losing their vessel in hudson bay. anton walbrook and leslie howard are standouts in a cast of great character actors. olivier almost spoils it with a horrible french accent in early scenes but don't let it put u off the film; he won't be around for long. the canadian backdrop is a refreshing change from other WW2 era films.
Stella Dallas
Super Reviewer
49th Parallel (The Invaders) Quotes
There are no approved quotes yet for this movie.