5 Fingers of Death (Tian xia di yi quan)
(2003)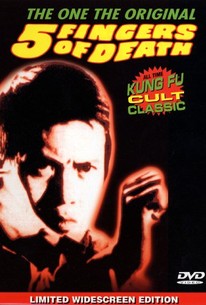 5 Fingers of Death (Tian xia di yi quan) Photos
Movie Info
One of the Shaw Brothers Studios most well-known films, King Boxer was an international success that helped instigate the kung fu craze of the '70s. It opens with an old master (Wen Chung Ku) attacked in an alley. He fends off the fighters, but decides he isn't strong enough to travel to a martial arts school to learn the Iron Fist (also called Iron Palm) fighting technique. He sends his pupil and son-in-law Chao Chi-Hao (Lo Lieh) instead. When Chao arrives at the school, he finds the students and teachers in preparation for the All China Tournament. They fear that if their archrivals win the competition they will rule with cruelty. Chao, the clumsy rookie, must start at the lowest rung of the school's ladder and work his way up. Meanwhile Ming Dung Shun (Tin Fung), master of the "bad" school has hired Chen Lang (Gam Hei Chu), a tough mercenary, and two Japanese ronins to kill or maim the "good" school's best fighters. In one of these fights Chao's hands are broken and it seems as if he will not be able to fight again. Chao redoubles his efforts to overcome his injury and learn the Iron Fist technique. Mastery of the technique is indicated by a "whooo-hee whooo-hee" sound effect and a quick zoom to the fighter's glowing hands. Chao's old master is also attacked and killed by these fighters and his daughter/Chao's girlfriend Yin Yin (Ping Wang) flees to tell him the bad news. Chao fights his way to the All China Tournament, and prepares to take on Ming Dung Shun and his cohorts. In the United State, the film is more commonly known as Five Fingers of Death, the more exploitative title given to it by Warner Brothers.
Critic Reviews for 5 Fingers of Death (Tian xia di yi quan)
All Critics (5) | Fresh (4) | Rotten (1) | DVD (3)
[VIDEO ESSAY] Before Bruce Lee's "Enter the Dragon" set a new standard for the American public's newfound obsession with martial arts movies in 1973, another, more traditional, Chinese Kung Fu movie had already set the stage for its success.
Despite the convoluted plot and large tapestry of characters, the film is packed with amazing moments, crisply shot and edited.
Audience Reviews for 5 Fingers of Death (Tian xia di yi quan)
½
Spectacular classic kung fu film that shows the violent so the action choreography and story were the main attraction. This is a story of revenge (for killing a loved one) and the pursuit of the main character to master the "iron-fist-technique" that will enable him to wreak holy vengeance on his enemies. There is even a love interest, though the awkward, polite kind (found in most Chinese films of the period). The end result however is great and much more authentic than any Bruce Lee movies.
Dean McKenna
Super Reviewer
Another great Dragon Dynasty release. Awesome kung fu flick that actually improves with repeat viewings. I was surprised at how much was actually going on with all the different characters, and how certain characters shift back and forth during the movie. Really good stuff and a well deserved classic. Plus, great commentary track on the DVD.
Christopher Brown
Super Reviewer
This belongs in the Rival Schools subgenre of martial arts flicks, and it's definitely one that would top the list. It starts off tame enough but builds up and up and delivers devastation and betrayal that almost becomes Shakespearean. Also if you've made it half way through only to find a lack a blood, don't fret, the spray will come and come hard in the last 3rd.
Patrick Dolan
Super Reviewer
5 Fingers of Death (Tian xia di yi quan) Quotes
There are no approved quotes yet for this movie.