Dream Girl
(1948)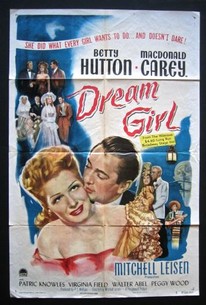 AUDIENCE SCORE
Critic Consensus: No consensus yet.
Movie Info
Elmer Rice's clever stage comedy Dream Girl is Hollywoodized and "dumbed down" almost beyond recognition in this 1948 film version. In place of the original play's Betty Field, Betty Hutton stars Georgina Allerton, who periodically escapes her humdrum existence by retreating into elaborate daydreams. Georgina's fantasy excursions disturb her parents (Walter Abel and Peggy Wood) and her married sister (Virginia Field), who wish that she'd grow up already and stop all this nonsense. Only when she falls truly in love with Clark Redfield (Macdonald Carey) does Georgina abandon her dream world. Like the previous year's Secret Life of Walter Mitty, the film version of Dream Girl substitutes the quiet whimsy of its source with slapstick and overstatement; additionally, Elmer Rice's three-dimensional supporting characters are transformed into cardboard stereotypes. And just so the audience doesn't miss anything, the producers have added a voiceover narration to explain what has just been seen. With all this going against Dream Girl, Betty Hutton emerges unscathed, delivering a lot better performance than her material warrants.
Critic Reviews for Dream Girl
There are no critic reviews yet for Dream Girl. Keep checking Rotten Tomatoes for updates!
Audience Reviews for Dream Girl
½
Not Betty's best but a pleasant enough comic fantasy.
Dream Girl Quotes
There are no approved quotes yet for this movie.