7 Up!
(1964)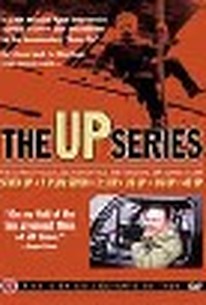 AUDIENCE SCORE
Critic Consensus: No consensus yet.
Movie Info
The British documentary Seven Up originated in 1963 as a 31-minute episode of the highly acclaimed Granada Television series World in Action. Acting upon the venerable Jesuit edict "Give me a child until he is seven, and I will give you the man," director Paul Almond and his young team of assistants randomly selected a group "typical" seven-year-old British children from the ranks of the private-school system. In various locations and situations, the filmmakers interviewed the kids about their backgrounds, their present lives, and their hopes and dreams for the future. Of the interviewees -- ten boys (one of them black), four girls -- six were drawn from the financially strapped working class, four from the privileged upper class, and four from what was vaguely defined as British middle class. Not surprisingly, the upper-class youngters are already reading all the "right" newspapers, carefully plotting out their adult careers, and generally behaving in a patronizing manner to their interviewers. Of the working-class youngsters, East Ender Tony seems to have the clearest vision of what he wanted to do with his life; he intends to be a professional jockey, and is eager and willing to work up the ranks in pursuit of that goal. Viewers who tuned in back in 1963 were most affected by the story of middle-class youngsters Nick, Bruce, and especially Neil, a lonely, sickly looking Liverpudlian lad who aspires to be a tour-bus driver. Intended as a one-shot project, Seven Up took on a life of its own when one of Paul Almond's assistants, 22-year-old Michael Apted, thought it would be fascinating to keep tabs on the 14 children and update their stories at seven-year intervals. With this in mind, Apted -- becoming a full-fledged director himself -- rounded up the kids in 1970 for a follow-up TV documentary, Seven Plus Seven. Thus began what amount to a lifelong creative mission for Michael Apted, yielding such fascinating, and, at times, heartrending filmed studies as 21 Up (1977), 28 Up (1984), 35 Up (1991), and 42 Up (1998). ~ Hal Erickson, Rovi
Audience Reviews for 7 Up!
½
Even if it embraces a too deterministic view of society by presuming it can predict a child's future just from their social class, this is a fascinating film (and experiment) that reveals so much about the multiple contrasting ways those seven-year-old kids perceive the world around them.
Carlos Magalhães
Super Reviewer
I found it interesting how smart these kids are. The whole series is a great idea, I wish I could find more of them
Curtis Lilly
Super Reviewer
The first of the greatest documentary series ever made, filming literally the lives of a group of child, ever seven years of their life. "There aren't many pieces of work, especially in film, that have the patience or the longevity or the time to honor the drama of ordinary life; and after all, the drama of what we all have to go through ? children, jobs, marriage, the things that touch us ? is the big drama of life, far more so than the drama of movies and television.? Quote: the director Michael Apted
Jeremy Smith
Super Reviewer
7 Up! Quotes
There are no approved quotes yet for this movie.