8:46
(2012)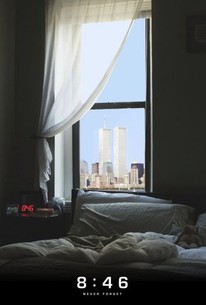 AUDIENCE SCORE
Critic Consensus: No consensus yet.
Movie Info
A moving and heartfelt drama following an ensemble of characters and storylines into the moment the world changed forever - 8:46 a.m. Tuesday, September 11, 2001. 8:46 was created to draw a more intimate, humane look at the tragic events of 9/11. Nearly 3,000 innocent people lost their lives that fateful Tuesday morning and each of them had a story, people who loved them, something to live for...a life of value. As we delve into the world of each character, we not only witness the terror, but also the hope, tenderness, acts of bravery and compassion, and the power of the human spirit. -- (C) Official Site
Critic Reviews for 8:46
There are no critic reviews yet for 8:46. Keep checking Rotten Tomatoes for updates!
Audience Reviews for 8:46
This movie was like so incredibly disrespectful to 9/11 and all the victims and their families. I thought it was going to be interviews with the families, but it's actually an entire reenactment of the event. The acting is SO BAD. Like literally desperate F List actors that they probably found on craigslist. These actors are so bad, it makes the movie seem like it's actually mocking the victims and their families. I don't know anyone affected by 9/11 but I actually took offense to this. It looks like satire the way the actors are so very poorly attempting to reenact 9/11. Why the fuck did they even WANT to make a movie to reenact 9/11? To show the shattered lives of the families affected? Like people didn't already know? Documentaries are for this kind of event, not fucking reenactments with horrible actors. The actors really fuck the entire movie up. It seriously looks like a huge joke, like it's mocking the victims. It's pretty fucked up not going to lie. It's also not accurate at all. The entire movie is just done in such poor taste; its disrespectful. I couldn't even watch the whole 55 minutes because I was so turnt off. It's so messed up. If you're going to do an actual movie about 9/11 then you need a bigger ass budget with some A list actors and some actual acting and screenwriting. Apparently this movie was trying to make like a tribute to the 9/11 victims, but they totally missed the mark. I don't think anyone with connections to 9/11 would appreciate this movie.
8:46 Quotes
There are no approved quotes yet for this movie.