The 8th Plague
2006, Action/Horror, 1h 30m
0 Reviews
100+ Ratings
You might also like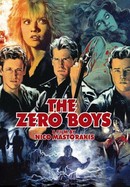 Rate And Review
Movie Info
When Launa searches for her sister she discovers an ancient evil in an old prison.
There are no critic reviews yet for The 8th Plague. Keep checking Rotten Tomatoes for updates!
Audience Reviews for The 8th Plague
What a stupid movie,We got to watch 15 mins of it then we shut it off.What a B movie,the acting sucked,the angles of the film being shot were horrible.Everything was right up close to the person,There was no atmosphereic look from the camera.What a waste of time.I dont even care what happened in the movie,dont waste your time watching this crap

Being forced to sit through this movie makes me realize that I should never randomly pick a horror movie off of the shelf again. The gore was good, that was a plus... ok the only plus. The only thing really horrific about this movie was the acting. The dialogue and plot were pretty poor also. If the characters in the movie hadn't have been so stupid, I might have actually felt sorry for them when they were brutally mutilated/possessed. I actually found myself wishing something would happen to most of the people just to get their annoying presence out of the movie.

While watching this film part of me just didn't want to like it. Which I think is to blame on roughly the first half (kind of laughable and less than stellar), which when you think about it, is more than forgivable as this is a modern B-Movie and as such should be seen through those eyes. Plus the begining allows for the last half which is actually very entertaining. It's well directed, and not in a polished Hollywood way, but in a genuinely interesting way. Plus the action and gore are pretty fun, ranging from funny to actually disturbing. Yah, there are the technical problems as this is independant, but if your any kind of a person who fancies themselves any kind of a film fan, you should be able to look past it. I think everyone who digs B-Horror should allow themselves to get infected by the 8th Plague (oh, pun).