A Cop (Un Flic)
(2013)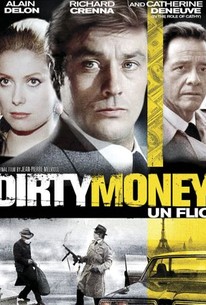 Movie Info
Edouard Coleman (Alain Delon) spends his days and nights chasing criminals, but doesn't see the crook right under his nose. Simon (Richard Crenna), a smooth nightclub owner, works with a small crew to execute daring heists with big payoffs, while the beautiful Cathy (Catherine Deneuve) is torn between them. As cop and criminal do what they do best, paths converge and old scores must be settled. The 13th and final film from Gallic great Melville (Bob Le Flambeur, Army of Shadows) doubles-down the ice-blue look that had been the director's signature in Le Samourai and Le Cercle Rouge, both starring the equally cool Delon.
Critic Reviews for A Cop (Un Flic)
Audience Reviews for A Cop (Un Flic)
½
While still a fine movie in its own right, there is precious little going on in Melville's final offering that followers of his work will not have seen better executed elsewhere. The Delon-Deneuve-Crenna triangle is too perfunctorily sketched to either convince or engage our interest. Of the three leads, Crenna does best, with Deneuve at her most icily vacant and Delon less appealing on the right side of the law. Curiously, the most sympathetically drawn and intriguing characters are in supporting roles: Riccardo Cucciolla's Paul, an ex-bank manager turned robber who reluctantly deceives his wife (Simone Valère) by pretending to be looking for work, and especially Valérie Wilson as Delon's transvestite informer. Worth seeing for a couple of typically excellent heist sequences, the second only marginally spoiled by some rather obvious model work.
Jean-Pierre Melville's final project is a blue-toned caper film with two extended heist sequences and several long stretches without dialogue. Alain Delon (who also starred in Melville's "Le Samourai" and "Le Cercle Rouge") is now a good guy -- a detective on the trail -- and lead criminals Richard Crenna and Michael Conrad are presumably dubbed in French. Catherine Deneuve shows up for a few scenes to look beautiful but feels written into the story as a marketing move. The most interesting segment is the second heist, an elaborate robbery of a train in motion. Unfortunately, the cost-cutting use of a miniature helicopter and train for the long shots is seriously embarrassing.
Eric Broome
Super Reviewer
melville blends his usual style with a gripping crime story that tracks every detail as parts of the story unfold in almost real time. the only drawback might be the films accessability as it is so intelligently written and filmed that one might have to be almost too smart to track along the way, but those that follow the story will be drawn in. phenomenal film.
A Cop (Un Flic) Quotes
There are no approved quotes yet for this movie.