A Fair Exchange
(1914)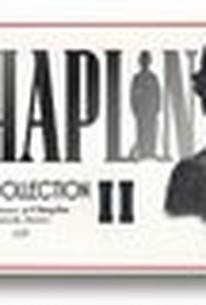 AUDIENCE SCORE
Critic Consensus: No consensus yet.
Movie Info
Charlie Chaplin's penultimate Keystone comedy takes us back to the scene of so many of his Keystones, Westlake Park. It is unusual in that it is a story of two married couples with wandering husbands: Charlie and battle-ax Phyllis Allen, and Mack Swain and Mabel Normand. Mack and Mabel, taking the air, spot a stalled sports car which fascinates Mack, who leaves Mabel and goes off to help the driver start it up. Seated on a park bench with Charlie, Phyllis has fallen asleep. A beautiful young woman, Cecile Arnold pauses by the bench, looking for her beau, a mysterious Turk. Charlie flirts with her and is spurned, but he leaves Phyllis asleep and chases after her. When he catches up, the Turk arrives and after a brief confrontation in which he stabs Charlie in the backside, Charlie is chased off. Charlie comes upon Mabel and begins to mash her. Tipping his hat he hooks her skirt with his upside-down cane and raises it above her knees. When she protests, he scolds the cane as if it had a mind of its own. Mack arrives on the scene and doesn't heed Mabel's complaints but introduces her to Charlie, whom he seems to know. Mack leaves them alone to go back to the car, and Charlie persists in mashing Mabel until a cop shows up behind Charlie. Mabel then turns all smiles and winks, hoping Charlie will mash her in the presence of the cop which he does, until the presence of the cop's billy club on his shoulder makes him take to his heels. Meanwhile Mack has come upon Phyllis and begins to mash her. Her cries also bring the cop who chases Mack away. Mabel and Phyllis eventually meet and commiserate with each other about the mashers they've encountered in the park. There follows a series of comedic chases and fights between the cop and Charlie and Mack. While hiding from the cop in the same bushes they are both apprehended and dragged off, but Phyllis and Mabel intercede to save their spouses from the clutches of the police. The two couples reconcile their differences but Charlie still insists on flirting and Phyllis, to Mack and Mabel's amusement, drags him off by the seat of his pants.
Critic Reviews for A Fair Exchange
There are no critic reviews yet for A Fair Exchange. Keep checking Rotten Tomatoes for updates!
Audience Reviews for A Fair Exchange
There are no featured reviews for A Fair Exchange at this time.
A Fair Exchange Quotes
There are no approved quotes yet for this movie.
Discussion Forum
Discuss A Fair Exchange on our Movie forum!