A Loving Father
(2013)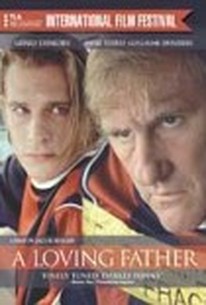 AUDIENCE SCORE
Critic Consensus: No consensus yet.
Movie Info
A father and his estranged son hit the road under less than ideal circumstances in Jacob Berger's 2002 film A Loving Father. Famed novelist Leo Shepherd (Gérard Depardieu) has just been notified, via his daughter Virginia (Sylvie Testud), that he is to be awarded the Nobel Prize for Literature. His son Paul (Guillaume Depardieu) also learns of his father's good fortune and attempts to call with his congratulations -- adulations that fall on deaf ears due to a falling out Paul had with his father several years previously. Leo, rather rashly, mounts a motorcycle to make the journey northward from his remote domicile in Switzerland to Sweden to collect the prize, against the advice of his family and close advisors. Paul, still wishing to connect with his father, attempts to catch up with him on the road -- doing so at the scene of an accident that Leo has barely managed to survive. Paul stows his dazed father into his car and sets out to find a hospital. Leo, ever the curmudgeon, strongly denies any need for the hospital and insists he be let on his way, forcing Paul to harness his father to the back seat of his car. Now provided with the opportunity to reach out to his father, Paul continues the voyage his father started and the two are forced to reconcile their differences along the way. A Loving Father was screened at the 2002 Locarno International Film Festival. ~ Ryan Shriver, Rovi
Critic Reviews for A Loving Father
There are no critic reviews yet for A Loving Father. Keep checking Rotten Tomatoes for updates!
Audience Reviews for A Loving Father
½
[font=Century Gothic]"A Loving Father" starts with Leo Shepherd(Gerard Depardieu) winning the Nobel Prize for Literature. He plans to ride a motorcycle 1200 miles to Stockholm, disappointing his daughter/manager, Virginia(Sylvie Testud), who wants to accompany him. At the same time, she will not put through the phone calls of his son, Paul(Guillaume Depardieu), a recovering addict who is putting his life together. So, Paul drives out and intercepts his father on the road, badgering him with questions...and even going so far as to fake his father's death.[/font] [font=Century Gothic][/font] [font=Century Gothic]"A Loving Father" is a thoughtful examination of the creative process that while mildly contrived does not thankfully become one long cliche. It is ironic that Leo who is believed dead is going to accept an award named after Alfred Nobel who was also mistakenly thought dead at one point. While Leo has his good points(he lives the life of a humble farmer and his riding a motorcycle to Stockholm is cool), he was also a horrendous father. Like I have said before, some people should never have children, especially a writer like Leo whose life is his work which is solitary by its nature. As a result, neither Virginia nor Paul is a complete human being, and now that they are adults, they have to take responsibility for and live their own lives, healing the damage suffered in their childhoods. And nobody does unbalanced as well as Sylvie Testud.[/font]
A Loving Father Quotes
There are no approved quotes yet for this movie.