A Serbian Film
(2011)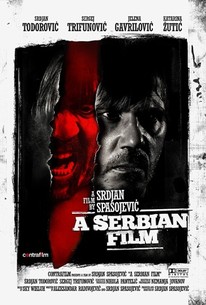 Movie Info
Milos, a retired porn star, leads a normal family life with his wife Maria and six-year old son Petar in tumultuous Serbia, trying to make ends meet. A sudden call from his former colleague Layla will change everything. Aware of his financial problems, Layla introduces Milos to Vukmir - a mysterious, menacing and politically powerful figure in the pornographic business. A leading role in Vukmir's production will provide financial support to Milos and his family for the rest of their lives. A contract insists on his absolute unawareness of a script they will shoot. From then on, Milos is drawn into a maelstrom of unbelievable cruelty and mayhem devised by his employer, "the director" of his destiny. Vukmir and his cohorts will stop at nothing to complete his vision. In order to escape the living cinematic hell he's put into, and save his family's life, Milos will have to sacrifice everything - his pride, his morality, his sanity, and maybe even his own life. -- (C) Invincible Pictures
People Who Like this movie also like
Critic Reviews for A Serbian Film
Audience Reviews for A Serbian Film
It is unbelievable that Spasojevic had the guts to say that there is a political commentary in this grotesque and repellent piece of torture porn that seems to have no other purpose than to shock and be polemic, raping the viewer with a sickening amount of heinous violence.
Carlos Magalhães
Super Reviewer
Jawdroping, A Serbian Film is a real piece of transgressive cinema. At the begining the film shows a few desnecessary scenes. Spasojevic's skoching work bring a critic to the country, unforgetable sequences, fantastic actings (including of himself), and one of the most controversial movies in cinema history (not bad for his first direction --- which is very good). Just like John Waters, Lars Von Trier, David Lynch and other, Spasojevic create something that shock and bring several debates to the table (not only about the picture, but the harsh critics that he make for Serbia). Another piece to the undergroung/eye popping cinema. Fresh.
Lucas Martins
Super Reviewer
I have seen my fair share of depraved cinema over the years. But none has had the sickening impact of A Serbian Film. This is a piece of absolute trash. The content in this film is absolutely sickening. I'm usually one to be able to handle some truly intense films, but this one was too much. I found the film to be very depressing and void of artistic merit. The film is an absolute waste of celluloid and I can't believe I am saying this, but this film made Cannibal Holocaust look like a Disney film by comparison. This is a piece of depravity like no other, with a clear intention to shock its viewers, and it most certainly does that. This is not horror, not even by a long shot. Sure, the content is horrifying, but it is far from good content. This is a film that is not worth your time and it is a disturbing film that will stay with you long after you've seen it. Don't expect anything good with this film; this is by far one of the worst torture porn films that I have seen. There is supposed to be some political commentary in the film, but I didn't see that whatsoever. The film's director clearly has no clue in delivering a stunning horror film, and goes mostly for the disturbing shocks. This was an exercise in repulsive entertainment, and it was a film that should be avoided if you enjoy well crafted horror. All we have here is a film packed with savage violence that has no meaning whatsoever. At least films like Cannibal Holocaust had meaning, and you clearly saw its message. But this, this on the other hand is a poorly constructed piece of trash that should be avoided at all costs. There is no substance or meaning to its violence, and that is why it's a reprehensible piece of trash. I absolutely hated it.
A Serbian Film Quotes
| | |
| --- | --- |
| Vukmir: | That's the cinema. |
| | |
| --- | --- |
| Vukmir: | A real, happy Serbian family. Life... Art. |
| | |
| --- | --- |
| Vukmir: | A real, happy Serbian family. Life... Art. |