A Simple Favor
(2018)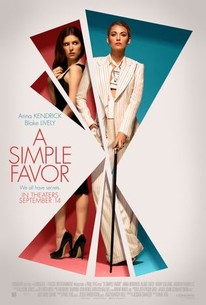 TOMATOMETER
AUDIENCE SCORE
Critic Consensus: Twisty, twisted, and above all simply fun, A Simple Favor casts a stylish mommy noir spell strengthened by potent performances from Anna Kendrick and Blake Lively.
Movie Info
A SIMPLE FAVOR, a stylish post-modern film noir directed by Paul Feig, centers around Stephanie (Anna Kendrick), a mommy blogger who seeks to uncover the truth behind her best friend Emily's (Blake Lively) sudden disappearance from their small town. Stephanie is joined by Emily's husband Sean (Henry Golding) in this thriller filled with twists and betrayals, secrets and revelations, love and loyalty, murder and revenge.
News & Interviews for A Simple Favor
Critic Reviews for A Simple Favor
Audience Reviews for A Simple Favor
GO ON GIRLS - My Review of A SIMPLE FAVOR (3 Stars) Director Paul Feig has a reputation for getting great performances from women in his feature comedies, with BRIDESMAIDS, THE HEAT, and SPY earning him legendary status. When I heard he was tackling the thriller genre with screenwriter Jessica Sharzer's adaptation of Darcey Bell's novel, A SIMPLE FAVOR, and had cast Anna Kendrick and Blake Lively in the leads, I'll admit I perked up and couldn't wait for its release. Despite a third act which goes way off the rails, it's a sleekly made, wonderfully performed, yet ultimately forgettable piece of pulp trash, and I wouldn't have wanted it any other way. Kendrick plays Stephanie, an uptight Connecticut single mother who, when not doting on her cute son, keeps up a Cooking VLOG with a tiny audience. One day, while picking up her son at school, she has a close encounter with a Mommy of a different kind, played to BASIC INSTINCT perfection by Blake Lively. A case study in dead-eyed assertiveness, her Emily oozes strong-willed fashionista while Stephanie has her Tracy Flick ball of neuroses down pat. Quicker than you can say, "Play Date!" the women bond at Emily's gorgeous, angular home over martinis and swapped stories about their sordid pasts. Interrupting their sapphic splendor is Emily's husband Sean (CRAZY RICH ASIANS' Henry Golding). As a once successful writer who hasn't written in years, Sean just likes to have a lot of sex, whether it's with his wife or really, anybody else. The first act of the film does a terrific job of setting up the character dynamics. Stephanie has never had a friend quite like the outspoken, fearless Emily, and Emily seems to avoid friendships like the plague. Kendrick and Lively's push-pull relationship gives this section of the film a lot of zing. Kendrick is particularly endearing while dancing around Emily's house to some French pop music or when shyly testing the waters with her questions of her new friend. Lively can turn on a dime and cut her friend down to size whether it's when having her picture taken or when challenged too much about her past. In either case, both actors thrive in their roles. And then one day, after asking Stephanie to pick up her son from school, Emily disappears. Stephanie, worried about Emily and feeling bad for Sean, basically moves into their house to help raise their son and cook everybody her amazing meals. Stephanie also does all she can to find Emily, taking such Nancy Drew action steps as scanning through microfiche as the library and snooping around Emily's office. It's at the office, a NY Fashion Design empire, where we meet Dennis Nylon (HOMELAND's Rupert Friend), a designer who judges Stephanie for her GAP clothes while wearing the ugliest gay-signifying outfit I've seen in a film in decades. It's also here where it became more apparent that Feig and Co. seemed to be going for an UGLY BETTY tone instead of a more serious GONE GIRL style. It works on its own, but this movie still has a body count, so the combo becomes a little tough to take too seriously. And this is where I stop talking about the story. It has twists and turns, all of which tend to surprise until late in the game, things speed up and conclude with a ridiculous stunt straight out of ROMY AND MICHELE'S HIGH SCHOOL REUNION. Now, we're in wacky comedy territory which just doesn't quite fit what preceded it. It also doesn't help that Golding is completely out of his depth here. Lively and Kendrick are heavyweights when it comes to owning the screen, whereas Golding...um...poses well? There's just nothing going on behind his eyes as if he were a bored actor on a 20-year soap tenure. This role required an actor who could project wildness and unpredictability and what we get is a soothing cup of chamomile tea. I'm also giving one slight demerit for the use of the song "Chick Habit". The English language version belonged to Tarantino's DEATH PROOF, so even though this version is in French, it struck me as lazy music supervision. Get your inspiration elsewhere! So, all told, this is a fizzy fun film with a very odd approach to female empowerment...but it's an approach nonetheless. Not a whole lot of nutso, kinda funny semi-tragic thrillers come down the pike, so go get it if that's your jam.
Glenn Gaylord
Super Reviewer
I always enjoy films that surprise me. Since the beginning of the film industry, the awe and wonder of going to the movies has always been the joy of seeing the movie itself. Whether a mystery film gives you a great plot twist or a comedy makes you laugh harder than you have ever laughed before, getting more than what you expect is always a plus. A Simple Favor is one of the latest films to receive a book-to-film adaption, and while many of those movies are ripped apart by fans of the novels, I have always been someone who watches the movie for the movie, regardless if I have read the book or not. In this particular case, this entire premise was new to me upon viewing the first trailer, so I went into this film completely cold, which is why I think I enjoyed it so much. If you're a fan of mystery in any form of the word, then I believe you'll share in the experience of having a great time at the movies with this one. A Simple Favor follows Stephanie (Anna Kendrick) and Emily (Blake Lively) as their kids want to hang out with each other after school, which allows them to form a friendship of their very own. After Emily asks Stephanie to watch her son for a while, she completely vanishes, not answering phone calls, texts, emails, etc. Stephanie, along with Emily's husband, Sean (Henry Golding), do their very best to uncover the mystery of her absence, while possibly even forming a bond of their own. This film is filled with plot twists that I never saw coming and a conclusion that not only flips this genre on its head but also has a dark comedy element as well, which is probably due to the fact that Paul Feig was at the helm. Although not written by him, director Paul Feig has been known for his comedies in Bridesmaids, The Heat, and Spy, all of which I have thoroughly enjoyed. It was a surprise to see him tackling a dramatic mystery, but when you really sit back and experience this film for all that it is, it's quite comical under the surface. Aside from maybe Bridesmaids, this may actually be my favourite film of his. Written by Jessica Sharzer (Nerve, American Horror Story) and newcomer Darcey Bell, it was very clear that they were the ones who kept this film on track in terms of the dramatic tone and clever plot twists, but it's very apparent that Paul Feig had some fun with it when piecing it all together when filming began. This film is a true mix of both. Even though I'd almost say that I loved this movie, I do have to admit that I fear some audiences may be turned off by the comedic undertone. If you're not the type of viewer who can accept a comedic beat that immediately follows a tragic incident, then A Simple Favor may be a little too uneven for you. It worked for me, personally, but I can see where the criticism may come into play. To myself, this is a very well-written and well-directed film from beginning to end, with a lot of attention to detail. Overall, A Simple Favor kind of came out of nowhere for me. I wasn't aware this film was coming out and I'm glad it got a wide release for everyone to see. If you're looking for a film to surprise you, this may end up being one of your most memorable film experiences of 2018. While I can't see it receiving any big nominations, it deserves far more attention than what it's currently getting. Through all its plot twists and comedic elements, I found myself completely engaged with this story. A Simple Favor is a pleasant surprise of a movie that I highly recommend.
A Simple Favor Quotes
There are no approved quotes yet for this movie.