A Talking Cat!?!
(2013)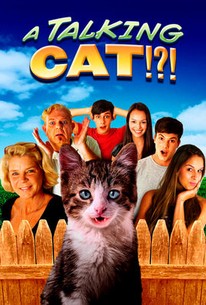 AUDIENCE SCORE
Critic Consensus: No consensus yet.
Movie Info
A lovable talking cat (voice of Eric Roberts) helps to unite two families by showing both the remarkable gifts they can share with one another.
Critic Reviews for A Talking Cat!?!
All Critics (3) | Fresh (0) | Rotten (3)
Kids looking for a cute cat tale will be disappointed.
It's not quite crazy or energetic enough to be a proper Bad Movie Night kind of movie... indeed the film is pretty effing boring.
Audience Reviews for A Talking Cat!?!
Last time I babysit I got to watch "Hannah Montana: The Movie" which I didn't like much. Now this time I wasn't planning watching on kids, but out of good will for a friend I decided to watch their kids for a little bit. Given that I couldn't show anything from my personal collection (Cannibal Holocaust, Caligula, Texas Chainsaw Massacre, etc.) I let them choose a movie by random on Netflix and this is unfortunately what they picked. First of all, this has got to be the laziest title for a kids movie I have ever seen. Second, the title is very misleading. Yes that's right, a movie titled "A Talking Cat!?!" barely has any scenes of the cat actually talking. He narrates and monologue plenty without moving his mouth, but does very little talking. Three, the editing is terrible. I have no idea how anyone could mess up editing on something as basic in this movie. All you have to do is edit scenes of characters talking and put it in some coherent order. Not here, the editing transitions pads out basic scenes by showing us a the interior of a mansion, some grassy fields, some beaches, even more grassy fields, the sky, even more grass, and actors slowly performing the most basic of action. Five, the closing credits are ten minutes long. It's not that big of a movie and did it really need two producers. Especially if one of them is Marco Colombo whose one only film I review so far was an animated movie base on the Titanic. Okay plot.... A housecat named Duffy has been given, in his life, a magical collar that allows him to voice his opinions. He uses his new found powers to help a two families by talking to then. Now in this universe the cat can only talk to a person one time and then no more. I'll be hard press to find another superpower cat this lame. So what wise wisdom does Guru Cat have for our character? "You should go for a walk", "Feed me", "Check your machine", "You and your dad talked to a cat" and other useless and pretentious philosophical wisdom. Also this cat calls himself a "Human Whisperer" even though he never whispers. Talking to humans ain't special in films. I've seen a talking floor, a talking elevator, a talking gingerbread man (three times), and even a rapping marsupial in a action movie. So a talking cat is not that special. The human characters have no real problems. Justin Cone character can't swim yet he lives in a mansion that has a pool. Speaking of Justin Cone, calm down you're not going get eaten by sharks or drown in your pool which you could perfectly stand up in. The epidemic of not having cheese puffs is consider a plot point. There's even a entire scene dedicated to establishing that. A incredibly weak romance and "La Cucaracha" is not a romantic song. There's a montage of two guys scanning clothes. That what passes up for excitement in this film. The "special" effect use to make the cat talk is lazy. The cat basically cat has a black dot on his mouth and everything around that black dots moves unconvincingly. I wouldn't complain this much a clearly low budget family film, but the cat doesn't even have teeth when he talks. Earlier I said the cat was pretentiously philosophical so some context make more sense of it. Near the end the cat is walking and is then hit by a car. We don't see the cat get hit. It cuts to the car and uses a squashing sound effect to give the illusion the cat is dead. I have to tell you not only did this movie make the kids bored, but managed to make them cry too. Somehow despite getting hit by a car leaves the cat unscratched. After a thrilling climax that consist of our characters finding the cat his collar. The cat is able to come back to life when the people put his collar back on. The cat doesn't just come back to life as simple as it sound, but the scene it blown out of proportion. The cat comes back to life Jesus style by having holy lights around him and even has a quire singing. A Talking Cat!?! is harmless, but nothing remotely interesting even happens. The problems aren't that big. The acting is cheesy with one actor trying to impersonate cardboard. It's cliche family junk that even kids won't like. Save yourself and your kids because with some family pictures that have been released over the years there's no reason you should settle for less.
Caesar Mendez
Super Reviewer
A Talking Cat!?! Quotes
There are no approved quotes yet for this movie.