A Wrinkle in Time
(2004)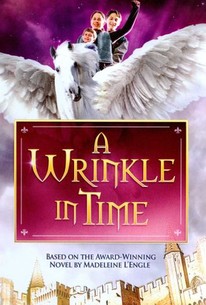 AUDIENCE SCORE
Critic Consensus: No consensus yet.
Movie Info
A pair of misfit siblings travel across time and space to save their father from enslavement in this made-for-TV adaptation of the classic children's novel by Madeleine L'Engle. Meg Murry (Katie Stuart), a tomboy who fits in with neither the kids nor the teachers at her New England middle school, feels bereft when her scientist father vanishes, leading to unsavory speculation from small-town gossips. But thanks to Charles Wallace (David Dorfman), her gifted but idiosyncratic younger brother, Meg befriends Mrs. Who (Alison Elliott), Mrs. Whatsit (Alfre Woodard), and Mrs. Which (Kate Nelligan) -- three cosmic beings who lead Meg, Charles Wallace, and their friend Calvin O'Keefe (Gregory Smith) on a journey to the sinister planet Camazotz, where Dr. Murry (Chris Potter) has been captured by the coercive power known as IT. Afflicted by hubris and naïveté, young Charles Wallace falls under IT's thrall, forcing Meg, Calvin, and their allies on a dangerous flight across time and space. But thanks to the healing touch of a kindly monster known as Aunt Beast (Ellen Dubin), Meg is able to face her own insecurities and attempt a final rescue of her loved ones. Originally broadcast May 10, 2004, on ABC, A Wrinkle in Time was released as an installment of the long-running Wonderful World of Disney.
Critic Reviews for A Wrinkle in Time
All Critics (3) | Top Critics (1) | Fresh (2) | Rotten (1) | DVD (3)
Disney, you will be relieved to hear, has done a decent job of adapting A Wrinkle in Time for television...
I haven't read the book, but I can't imagine, given its popularity, that it would have been read by as many people as it has if it were as mundane as this movie.
Audience Reviews for A Wrinkle in Time
½
Before Phillip Pullman, J.K. Rowling, and Rick Riordan, there was Madeleine L'Engle, one of the greatest science fiction and fantasy writers who made a classic known as "A Wrinkle in Time", a captivating and distinctive children's novel that treated us like adults. Before she died in 2007, her book was translated into a TV movie from Disney in 2004 (seven years ago) starring Katie Stuart, Gregory Smith, David Dorfman, Kate Nelligan, Allison Elliot and Alfre Woodard. I've read the book after seeing this and I think it was a very wonderful adaptation. It's not great, perse, but it was actually faithful to the book. Apparently, I do have some problems with this film. The storyline has a few flaws including the characterization of Mrs. Which, the town of Camazotz being unterrifying, and Dennys and Sandy Murry's personalities being changed. The CGI effects were kind of mediocre (not good, but not terrible) and the pacing was just plain awful. There are a few good things, however. The characters' performances were very fantastic when it comes to an A-Cast. The storyline was well-developed as well as Meg Murry's character growth it gives the characters enough screentime and the visuals were very amazing. Jeff Danna's music score was emotive and innovative and the christian message about the power of love was actually faithful. A Wrinkle in Time lacks in any depth due to its flaws, but its, without doubt, a faithful adaptation of a great novel. I was shocked to see that lots of people hated it for not being translated into theaters. To those who love/hate it, there's some good news that Disney plans to remake the novel due to the success of Tim Burton's Alice in Wonderland. Long story short: A really good TV movie and it's worth seeing. 3.5/5
Gavin Cresswell
Super Reviewer
Only love can defeat the darkness. What a wonderfully Disney idea. Personally, I think the darkness looked a lot like New Jersey. This movie is based on an old novel, one that many of us read in school. While Disney tried to adapt it to the big screen, they failed miserably. This movie was way too long and confusing for kids. Even I had a hard time sitting through it. Katie Stuart gives a tremendous performance as Meg, but sadly it was the only note worthy performance. Gregory Smith, one of my favorite young actors, was quite bland, the three ladies were just ridiculously Disneified, and David Dorfman, while adorable, was very repetative. I usually love when old fairytales and Sciene Fiction novels come to life on the big screen, but this was really one I could have done without.
Todd Smith
Super Reviewer
½
For a movie that isn't even that old, I am surprised at how poor the special effects are. I'm not sure if the movie does the book justice but I think that most of this was cheesy. There were some good parts but most of it was just sort of lame. Great acting however.
Dannielle Albert
Super Reviewer
A Wrinkle in Time Quotes
| | |
| --- | --- |
| Meg Murry: | "charles wallace is not the only one new" |
| Meg Murry: | Charles Wallace is not the only one new. |
| | |
| --- | --- |
| Mrs. Whatsit: | In all the one of who you are now. In the glory of everything you are becoming. In all that you feel, you have something the darkness does not have. Can never have, my darling. |
| Meg Murry: | What? What is it? |
| Mrs. Whatsit: | It is only yours if you find it for yourself. |