Aaah! Zombies!!
(2007)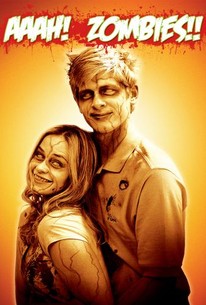 AUDIENCE SCORE
Critic Consensus: No consensus yet.
Movie Info
The undead are on the march in bowling alley, though they aren't aware of what's happening to them in this ambitious blend of horror and comedy. Military intelligence forces are attempting to formulate a drug that will turn ordinary soldiers into invincible killing machines, but their latest batch of the stuff has far too many unpleasant side effects, and the green slime is sent out with the Army's trash. However, by accident the stuff is shipped to a bowling alley in a dot-on-the-highway town, where sweet but un-ambitious Timmy (Michael Grant Terry) moons over half-bright Cindy (Betsy Beutler) and smart-mouthed Mike (Matthew Davis) swaps insults with former flame Vanessa (Juliana Robinson). Assuming the bilious goo is some sort of desert treat, the denizens of the bowl-o-rama wolf it down and soon turn into drooling flesh-hungry zombies. However, one of the unusual effects of the drug is that those using it are unaware of its impact, so Timmy, Cindy, Mike and Vanessa are quite puzzled as others flee in terror at the sight of them. Ahh!Zombies!! (aka Wasting Away) was the first feature from director and co-screenwriter Matthew Kohnen.
Critic Reviews for Aaah! Zombies!!
All Critics (2) | Fresh (2) | Rotten (0)
A surprisingly great horror comedy with depth, scares, top notch effects, and sharp performances...
After watching this, my faith in low-budget innovation was instantly restored.
Audience Reviews for Aaah! Zombies!!
This was a fun B style movie with a very different perspective! It will not win awards, but it will entertain!
Thomas Johnston
Super Reviewer
Not bad. Also known as Aaaah! Zombies!, Wasting Away utilizes a very interesting concept for its plot: a group of people get turned into zombies, but don't actually realize that they've become zombies. I've seen a number of zombie films, and I've wondered hypothetically whether zombies would know of their plight, or if they would see other zombies as mere people, as the zombies do in this film. Although it's stupid at times, it's deliberately and laughably so, not due to bad writing or something. Worth checking out if you like zombie films, but fans of comedies might enjoy it too.
Stephen Skudlarek
Super Reviewer
Great low budget zombie film. This starts with the typical old school zombie film thing of a top secret serum leaking into some ice-cream mix and when eaten by a group of friends they turn into flesh hungry zombies. BUT WAIT! What makes this different from most other zombie movies is the way that the serum makes the friends believe that they aren't infected, its everyone else thats the problem so we see alot of the film from the perspective of the zombies themselves which is cool and often funny. Whats also cool is the use of black and white and colour. Also, for a B-movie, this is well written, the actings mostly good and cute blonde Betsy Beutler is as good looking as any other Hollywood A-list lady. Although i found an idea towards the end didn't work and would have rather just had the four/five friends together until the end, this is an entertaining, fun and fairly original zombie flick that horror fans should watch and zombie fans must watch.
Aaah! Zombies!! Quotes
There are no approved quotes yet for this movie.