Aaron's Blood
(2017)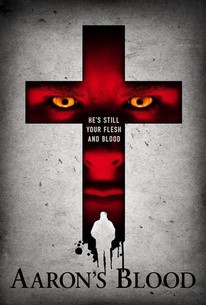 Movie Info
Aaron copes with his new life as a single father and the distant relationship he shares with his only child Tate. A timid hemophiliac, Tate is roughed up at school by the chief bully causing a massive nosebleed that lands him in the hospital fighting for his life. He makes a miraculous recovery after a necessary blood transfusion, but Aaron begins to notice progressively strange behaviors in his son. Faced with the grim possibility that his son could be becoming a vampire, Aaron enlists the help of a local vampire hunter and embarks on a frantic search to find the source of the infection to stop the transformation before it's too late.
Critic Reviews for Aaron's Blood
Audience Reviews for Aaron's Blood
There are a few areas of Aaron's Blood I would have liked to see more thoroughly explored, primarily what it meant to Tate to go through his ordeal, and how he reacted to it, but for the most part, the only problems with Aaron's Blood are those caused by budgetary constraints. I know that there's not a lot to be done about those, but the end result is some palpable potential that unfortunately has to go by the way side, leaving an "only okay" movie in its place.
Aaron's Blood Quotes
There are no approved quotes yet for this movie.