Address Unknown
(2001)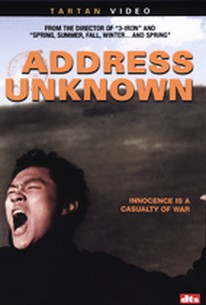 AUDIENCE SCORE
Critic Consensus: No consensus yet.
Movie Info
Following up on his hallucinatory meditation on sex, death, and fish hooks in The Isle, Korean filmmaker Kim Ki-duk spins this brutal exploration on the lingering anger and exploitation of America's occupation of South Korea. Even though all her letters are returned stamped "Address Unknown," a middle-aged woman nevertheless compulsively writes letter after letter to the American soldier with whom she bore an African-American/Korean child. Her son, named Chang-guk, is the object of societal scorn and rejection and can only get a job as a dog butcher, a job he executes with a certain amount of grim pleasure. He finds himself attracted to a high school girl with a degenerative eye condition who is trapped in an abusive relationship with an American G.I. His love for the girl and his free-floating rage against society fuels a violent outburst that changes everyone's lives. This film was screened at the 2001 Toronto Film Festival. ~ Jonathan Crow, Rovi
Critic Reviews for Address Unknown
All Critics (2) | Fresh (1) | Rotten (1)
An eheis tin ypomoni na parakoloythiseis gia miamisi ora tin poiitiki epanaliptikotita toy skinotheti poy einai asygkratitos oso pote sti mizeria poy petaei stoys iroes toy, mporei mesa ston aparadekto iho, ti ftini fotografia kai tin aneleita koyrastiki
A simple tale about Dog butchery, bullying, American imperialism and Korean bigotry.
Audience Reviews for Address Unknown
Kim Ki-Duk films are never a bundle of rainbows, but this depressing even by his standards
Marcus Woolcott
Super Reviewer
½
I like Kim Ki-Duk films... 3-Iron, Spring Summer Autumn Winter, Bi-Mong - they meander along but I'm always happy to follow. This is one of his depressing films, where dislikable people do dislikable things to each other, themselves and, in this case, dogs. All the main characters have some kind of major breakdown by the end and you'd be hard pushed to find any kind of redemptive message anywhere but if that doesn't bother you then give it a go.
It's difficult to recommend Ki-duk Kim's films. His movies are never complacent, but even the most passionate examples can be dull. Address Unknown is one such film, an explosive concept made dull by a director still learning his craft and working out the kinks. Fans of the director will still want to check it out, but this one is not necessary viewing. The film also suffers from some truly terrible performances by the actors playing American soldiers. The American soldier has an important place in the plot, but the actor's performance is so cartoonish that it's distracting every time he's on screen. This portrayal may be the way that Koreans see the American soldiers stationed there, but it still doesn't line up with the rest of the film.
El Hombre Invisible
Super Reviewer
Address Unknown Quotes
There are no approved quotes yet for this movie.