Adventures of a Teenage Dragonslayer
(2010)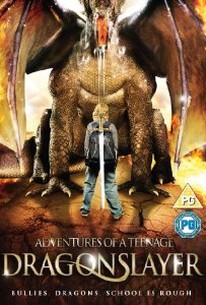 Adventures of a Teenage Dragonslayer Photos
Movie Info
Bullied 12-year-old Arthur learns that he alone holds the key to slaying a vicious dragon after being rescued by a benevolent troll in this fantasy adventure for the entire family. When Arthur fails to convince his skeptical mother that their small town is about to come under attack from a fire-breathing dragon, the determined boy enlists his best friends Tim and Natalie to help slay the beast before the suburbs burn.
Critic Reviews for Adventures of a Teenage Dragonslayer
Audience Reviews for Adventures of a Teenage Dragonslayer
Okay - there is one thing that should be a rule of films: if it appears on the front cover, it should resemble the film. This film breaks that rule abismally! The main character is not blonde, the dragon is a pathetic CGI image rather than something realistic, and the castle on the back of the DVD case does not feature ANYWHERE in the film! Another major flaw is that the main character is NOT A TEENAGER: he's 12! And to add to that he look so much younger. The script was not special in any way, shape or form and showed exactly what can go wrong with indie film making. Unlike what some reviews say, the acting is not poor, it was mediocre - nothing amazing, but not really bad. What suprised me the most was that a scene very resemblent of the first Saw film featured, yet it remained a PG! There is a part where a blue troll cuts his own foot of with a saw, leaving blue blood everywhere. I just don't get why that was even necessary, it seemed an excuse for violence; and not a good one at that. About the only decent thing in the film was the part where one of the children hotwires a van so they can escape and when ask where she learnt to do that she said "At scouts." On whole, it is enough to entertain smaller children, but is not of great taste, nor of a position that allows it to be considered so bad it's funny. If you really want to entertain children, show them some Disney classics, not this indie failure.
BG Movie Reviews 2011
Super Reviewer
½
This is so silly it was almost watchable...right up until the troll appeared and tried to be Schmeegle out of the Twin Towers...The kids loved it I suppose but adults should steer clear.
Barry Lappin
Super Reviewer
Adventures of a Teenage Dragonslayer Quotes
There are no approved quotes yet for this movie.