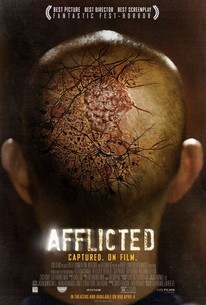 Afflicted
2013, Horror/Mystery & thriller, 1h 25m
30 Reviews
10,000+ Ratings
What to know
Critics Consensus
It isn't without its share of clichés, but Afflicted proves there's still life in the found-footage horror genre. Read critic reviews
Where to watch
Subscription
Subscription
Rate And Review
Movie Info
Two friends' tour of Europe takes a dark turn when one of them contracts a mysterious illness. They race to find out what it is and how to cure it before the sickness consumes him completely.
Rating: R (Language|Disturbing Bloody Violence)

Genre: Horror, Mystery & thriller

Original Language: English

Director: Derek Lee, Clif Prowse

Producer: Chris Ferguson, Zach Lipovsky

Writer: Derek Lee, Clif Prowse

Release Date (Theaters): limited

Release Date (Streaming):

Box Office (Gross USA): $121.2K

Runtime:

Distributor: CBS Films

Production Co: IM Global, Automatik
News & Interviews for Afflicted
Audience Reviews for Afflicted
Creepy, yes, but kinda boring. Poor acting.

Super Reviewer

The found footage genre is a genre of horror films that has been done over and over again, every idea has been explored, and every concept has been done to the point where every film that has been released is predictable. Nonetheless Afflicted manages to be a pretty good film despite the fact that it doesn't reinvent the genre. The cast do a fine job in their performances, and the way the story progresses it steadily adds tension, and the result is an impressive film that manages to exceed expectations despite the fact that it's a found footage affair. Afflicted is a good picture because the filmmakers don't overdo anything, and they manage to keep it simple, therefore you're more involved in the film, and you steadily have a growing fear which makes this one of the best films in the genre since V/H/S. Despite not breaking new grounds, it's nonetheless a skillfully crafted film, a genre film that will surely appeal to a viewer looking for a found footage with genuine chills, and that's where most found footage films fail, they opts for formulaic, predictable scares which in the long run don't work and bore the viewer. With Afflicted there are moments that are scary, bone chilling and unnerving, the way a good horror film should be. Afflicted succeeds on several levels and it's a film that is well worth your time, especially if you enjoy this particular genre of horror films. The film is not perfect, but it has enough chills and shocks to make it a memorable film to watch, and there are enough chills here to grab your attention from start to finish.

The found footage genre, whether horror or not, is a definite mixed bag. Horror movies, in general, are a refuge for lazy filmmakers looking to make a quick buck. Found footage movies, in and of themselves, are even cheaper to produce than regular horror films. I could probably produce a very cheap found footage film and edit it together. Because of that ease that the genre allows you, you have even lazier people trying to get in on the genre. This is where you have debacles like Devil's Due or The Devil Inside (among countless others direct-to-DVD films that I don't bother watching). On the other side of the coin, you have movies like [REC], Troll Hunter, and Chronicle. In the case of [REC], it led to an exquisite exercise of how to do the genre correctly. If you've seen my review of that movie then you know I'm a big fan of that movie. May be my favorite horror movie of the last decade. It took something that would be severely limiting to others and it managed to tell a story that actually has some of the best scares. It's not just jump scares, it's well-constructed and well-edited scares. Even a movie like Cloverfield, that I did not enjoy, though I've been meaning to give it another shot, is masterfully edited. And that's all thanks to how it's shot. Where would this film fall? Of course, as you can see by the rating, this isn't as good as [REC], or even as smoothly edited as Cloverfield, but it isn't the disaster that Devil Inside was. It's certainly not the most unique found footage film that you will ever see. But it does take some familiar ideas and it creates an intriguing and, ultimately, very fun horror film to watch. Of course the film is replete with horror cliches. Bad shit happens when your characters go to foreign countries, never go to a foreign country if you're a character in a horror film. Nothing good comes from that. But this film doesn't really harp on it as much as other, and less astute, films where they make a big deal about where it actually happens. This feels more like an accident and not something that some maniac planned because he's sick and tired of foreigners coming into his country Or something like Hostel. So that's always good, maybe it helps that the guys that made the film are Canadian and they're, inherently, nicer than others. Stupid stereotype aside, both Derek Lee and Clif Prowse, who both wrote directed and shot this film, definitely breathe new life into the vampire genre. Pun not intended. I'm using their own words here, but they believe that the vampire has usually been presented in stylized, melodramatic, romanticized, and cinematic way. I think they're mostly referring, I'd like to think, the recent surge in vampire films thanks to Twilight. So in that regard, this certainly, while not reinventing the wheel as far as the vampire genre goes, offers a new look, at least visually, at a genre that's had a wooden stake driven through its heart by the aforementioned Twilight series. With that said, I did have a lot of fun watching this movie. Even if there are a couple of rough spots here and there, like the climactic scene with Derek and Audrey had some embarrassing acting. And, of course, and this is a requisite for this type of film, some pretty nauseating camerawork. It mostly happens once Derek jumps from out of the hotel he was staying in in Italy to escape from Interpol. The chase that follows is pretty annoying from an editing standpoint. It's one of the few hiccups, from a technical standpoint, that you'll notice in this film. With that said, on top of all the vampirism, blood, and guts, there's actually a good story here about the relationship between these two friends. I don't think they fully explored this friendship, as certain events needed to happen in order for the story to move forward. But it helps that these two guys are actually friends, and have been friends for over a decade, even showing home video footage of Clif and Derek goofing around in their 20s, it makes the transition to their on-screen pairing that much more natural. There's this little introductory piece where Eddie says something about Clif and vice versa, and it wouldn't surprise me, at all, that none of this was scripted out at all. Other than touching on Derek's, the character, AVM, which is very important to the story and what ends up happening to Derek, this little introduction video feels completely genuine. So I applaud Clif's and Derek's efforts to make sure that the film wasn't completely impersonal and didn't have characters that, maybe you can't relate to them, but you can understand why they do what they do when put in certain situations. While the film certainly makes an effort to give you something of a story, the whole movie is just fun to watch. Certainly has its funny moments here and there, but it's not long before Derek is thrown into his predicament. So it's not that the movie is funny, it's just fun to watch. I enjoyed myself tremendously and while it doesn't really give you a new side of vampirism that you haven't seen before elsewhere, it does offer a different perspective, from the way it's shot, on the genre. And that makes it, at the very least, worth a rental. I had a hell of a time watching this movie. Good stuff right here.

It's a rather well made entry into the hand held genre with mixed results. The main problem is that it's clearly trying to be surprising and pulling "intelligent" twists here and there but it doesn't take a PhD on quantum physics to understand what's really going on here and since there's not much originality on the mythos it's exploring, it becomes kinda dreadful to endure at times, thanks to the overload of clichés and the lack of scares or subtetly. Fortunently, our protagonists are likeable enough and we got experience their angst and frustration which is rare on the genre. Add some neat parkour segments and Afflicted is worth a shot in the end.
See Details