Wandâfuru raifu (After Life)
(1998)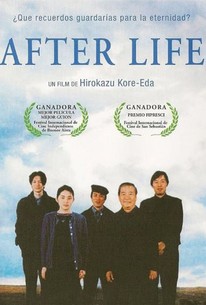 Wandâfuru raifu (After Life) Photos
Movie Info
Like his previous drama Maborosi (1995), Hirokazu Kore-eda's After Life is a brilliant meditation on death and memory. The premise of After Life is simple: over the span of a week, twenty-two souls arrive at a way station (which looks like an old junior high school) between life and death, where they are asked to choose just one memory to take into the afterlife. The new arrivals include an elderly woman, a rebellious dropout, a teenage girl, and a 70-year-old war veteran. Once they have chosen a memory, it is recreated and filmed by the staff of the way station, using all the tricks and illusions of cinema: cotton balls are used to mimic clouds, a fan is used for a summer breeze. In preparation for this project, Kore-eda interviewed 500 people from all walks of life about their memories. The film freely cuts between footage of these interviews, actors improvising, and actors reading scripts. Just as Kore-eda fuses documentary elements with a fictional narrative, we see over the course of the film how memories are distorted, improved on, and revised; and it is these subjectively constructed memories that the new arrivals value most. This film is not a typical Hollywood feel-good film; but its unhurried pace and lack of melodrama, like its subject, may linger in the memory long afterwards. ~ Jonathan Crow, Rovi
News & Interviews for Wandâfuru raifu (After Life)
Critic Reviews for Wandâfuru raifu (After Life)
Audience Reviews for Wandâfuru raifu (After Life)
Good performances and the proper direction for the material, but it's one of those films that feels more like an essay than an actual exploration of the subject. You're suppose to think a lot about what life means to you, and your memories and what not, but at the end you will not remember much about this film. Strong questions require strong statements, plain and simple.
Tsubaki Sanjuro
Super Reviewer
a humorous, imaginative and poignant film about a way station between life and death where the newly deceased are asked to review their lives and choose one memory to keep. these memories are then recreated on film by the staff! it's all done in a simple and matter-of-fact way and the interesting mix of characters keeps your attention through the interview process, which plays almost documentary style. the recreation scenes are most charming. it's quite moving watching the characters make their peace and try to move on
Stella Dallas
Super Reviewer
½
After Life is without doubt one of my new favorite Japanese films ever made and always a pleasure to see Susumu Terajima in anything. Simplistic in its execution, it is a moving experience that dwells not with death but in its' examination and, more importantly, a celebration of life. It is very difficult to pin-point just what it is about After Life that is so great, but I loved the attention to detail that Kore'eda invests in each character, in each memory and within the often heartbreaking events that the characters have lived through. After Life is a film that urges you to reflect upon your life, the good and the bad, the happy and the sad. If you could only pick one memory for eternity, which would it be?
El Hombre Invisible
Super Reviewer
Wandâfuru raifu (After Life) Quotes
There are no approved quotes yet for this movie.