Alice's Restaurant
(1969)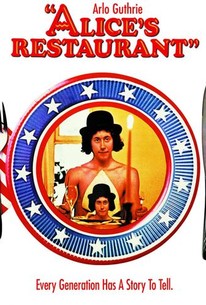 Alice's Restaurant Photos
Movie Info
This uneven film is based on Arlo Guthrie's popular song "The Massacre At Alice's Restaurant." Arlo, son of famous folksinger Woody Guthrie, wrote the almost 19-minute song after being arrested for littering when he threw out some food. He visits his dying father in the film, and Pete Seeger also makes an appearance. Arlo sings three songs including the title track, and Joni Mitchell's "Songs To Aging Children" is appropriately played during a funeral scene. Pat Quinn plays Alice, with James Broderick as her husband Ray. Arlo's criminal past is exposed when he is rejected for a tour in the U.S. Army because he is a "degenerate".
News & Interviews for Alice's Restaurant
Critic Reviews for Alice's Restaurant
Audience Reviews for Alice's Restaurant
Very much of its decade, this sixties' iconoclastic film features the best of the folk era and also re-imagines a true story about the complications of morality in a Vietnam tinged landscape. The movie's premise is based on a true story from the life of lead character and guitarist Arlo Guthrie, who was arrested in 1964 for dumping in a ravine on Thanksgiving when the local dump was closed. His crime made him ineligible for service in Vietnam, which Guthrie found preposterous because the army's atrocities were much worse than his discretion. He wrote an 18-minute long song about the incident which became popular and led to this film being made. That gimmick sustains this in many people's minds as one of the more iconic films of the sixties because it speaks about the revolutionary spirit of that time, the atrocities of a war that would rage for another four years, and the free love attitudes of many young people at this time. Though many elements of the story were true, a large bit was fictionalized in order to stretch it to a longer runtime. Parts of this are entertaining, fluid, and show a lot about what made the sixties so important. Other times it becomes painfully clear that no one can act in this film, especially Arlo Guthrie. Each of these characters is painfully bland and the performances are very wooden. This film also can't decide whether it is a comedy or a dramatic biopic with leanings towards political revolution. This film is simply fueled by the paranoia and hatred from the war, and that last refrain in the song, and in this film, was very powerful and thought provoking. The problem is that the film is bogged down in extra bits that try to make it funny and strange, trying to build off the views of communes, flower power, and other sixties' staples when it accomplishes so much without it.
Spencer S.
Super Reviewer
Yes it's an off beat off key kind of movie, but that's not always good. I thought this movie was pretty boring for the most part. Maybe that's because I'm not familiar with Guthrie's work outside of the film, but I think the movie could have been more cohesive and entertaining. Overall, it's okay, though.
One of those 'generational anthems' that's more endearing because it's a tad off key. Arlo Guthrie's semi-autobiographical homage to his father and his friends.
Randy Tippy
Super Reviewer
Alice's Restaurant Quotes
There are no approved quotes yet for this movie.