Alien vs. Ninja
(2010)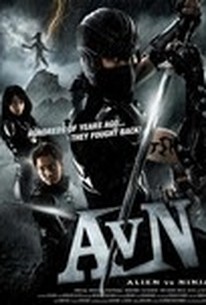 AUDIENCE SCORE
Critic Consensus: No consensus yet.
Movie Info
A monster from outer space gets a less-than-warm welcome from a band of ancient warriors in this over-the-top exploitation picture from writer and director Seiji Chiba. In feudal Japan, a strange flaming object falls from the sky, and when reports of mysterious deaths follow, three ninja warriors are sent out to investigate -- brave Yamata (Masanori Mimoto), stealthy Jinnai (Shuji Kashiwabara) and their silly sidekick Nezumi (Donpei Tsuchihira). What the ninjas find is outside their previous experience -- a bloodthirsty creature from another world that has arrived on Earth and plans to kill everything in its path. However, the alien didn't count on the tenacity or the fighting skills of the ninjas, and they set upon the creature with the help of sword-swinging female ninja Rin (Mika Hijii). Of course, the alien didn't travel alone, and it isn't long before the warriors are making mincemeat of a whole platoon of beasts from another ugly world. Alien vs. Ninja received its world premiere at the 2010 New York Asian Film Festival.
Critic Reviews for Alien vs. Ninja
All Critics (3) | Fresh (0) | Rotten (3) | DVD (1)
AvN is occasionally campy fun, but it's mostly just dull and and disappointing, never living up to the potential of its terrific title.
There has to be a far better movie still to be made under the guise of this wonderfully singular title. Right?
while this film shares the anything-goes splattercore sensibility of Tokyo Gore Police and Vampire Girl vs. Frankenstein Girl, it is neither fast enough nor visually inventive enough to distract from the emptiness of its plot.
September 23, 2010
Audience Reviews for Alien vs. Ninja
This is another weird, wacky Japanese genre effort in the same vein as Vampire Girl vs. Frankenstein Girl and Robo-Geisha. The title says it all: a group of ancient Japanese ninja end up going claw to sword (and eventually sword to sword) with some monstrous aliens (that look suspiciously like people in moderately expensive Halloween costumes). There's really no more story beyond that and a hinted at love triangle between two of the male shinobi and their female counterpart. Nothing about the "aliens" is explained, they just show up and start swiping people's heads off and fiercely trying to grab boobs. Alien vs Ninja isn't as gross or ultra-violent as many similar movies can be, but it does have its moments. People get ripped in half and have little mind-controlling aliens crawl up their noses, and plenty of pink pepto bismol alien blood flows all over the place. AvN won't win any awards for storytelling or production values, but it's a goofy and occasionally fun way to waste some time. There are better similar movies, but genre fans should find it worthwhile.
½
A great little romp of Japanese cartoonish madness. If you love weirdly titled, poorly shot films, then this is for you. It has bad CGI and even worse suits/puppets. How can I possibly defend it? I enjoyed it dammit. It had action, adventure, betrayal, and never let its budget get in the way of imagination. The little alien critters were grotesquely simple, while the big alien dudes were uncomfortably phallic. The comedy mostly came from bizarre deaths, and though these were more normal than usual (for this type of movie) the sword fights were more than convincing enough. This is the kind of film that young teenagers make with their friends on a nice summer afternoon. Only difference is, that here we have grown-ups that should know better, and with that immaturity comes innocence and excitement.
Luke Baldock
Super Reviewer
½
Aliens land in feudal Japan, and a band of ninjas must defeat them. Inventive action choreography narrowly defeats cheap special effects.
Alien vs. Ninja Quotes
There are no approved quotes yet for this movie.