American Boy: A Profile of: Steven Prince
(1978)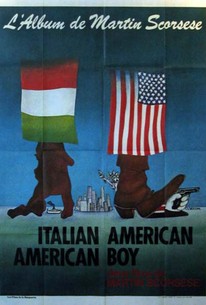 Movie Info
Martin Scorsese's American Boy: A Profile of Steven Prince is both a documentary and a tragicomedy, in which the personal experiences of one twentysomething Jewish gay man are rendered universal. Surrounded by friends in a cozy living room, the sensitive and humorous Prince (Taxi Driver's gun salesman, Handy Andy) recounts his personal history, from his run-in with a gorilla, to his relationship with his parents, his childhood bagel delivery business, his coming out, his addiction to drugs, his job as Neil Diamond's road manager, and his father's falling ill. One of Prince's most exciting tales, an account of his reviving a friend's overdosing girlfriend by injecting stimulant into her heart, was re-created almost to a tee by director Quentin Tarantino in Pulp Fiction. As wild and theatrical as the young man's accounts are, Scorsese intersperses them with childhood pictures of Prince that could be of any American, quickly reminding the entire audience of their common humanity.
Critic Reviews for American Boy: A Profile of: Steven Prince
Audience Reviews for American Boy: A Profile of: Steven Prince
½
An entertaining and exciting documentary of the dangerous pass of Steven Prince, friend of Scorsese, ex-manager of Neil Diamond and ex-addict. American Boy: A Profile of Steven Prince, is a rare piece of art, a cult work, that bring a little know character, but that inspire a lot of others filmmakers with him storys of his shocking life. Fresh.
Lucas Martins
Super Reviewer
½
A peculiar documentary featuring Steven Prince telling Martin Scorsese his often hilarious experiences, a series of stumbles with drugs and law. Recollections that include a Marihuana-Gorilla bit, Jack the Cop, a drug bust; the revival of a woman after an overdose, which was later taken by Quentin Tarantino for 'Pulp Fiction'; and another bit that was taken by Richard Linklater for 'Waking Life' Guaranteed entertainment.
Pierluigi Puccini
Super Reviewer
Scorsese films ex-addict-adventurer Steven Prince telling stories to his friends; Prince gets laughs, and hides how he is shaken up and amazed he survived...for what? for whatever comes next is the best answer he has
Adam Mahler
Super Reviewer
American Boy: A Profile of: Steven Prince Quotes
There are no approved quotes yet for this movie.