American Honey
(2016)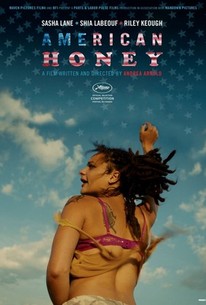 TOMATOMETER
AUDIENCE SCORE
Critic Consensus: American Honey offers a refreshingly unconventional take on the coming-of-age drama whose narrative risks add up to a rewarding experience even if they don't all pay off.
Movie Info
Star, an adolescent girl from a troubled home, runs away with a traveling sales crew who drive across the American Midwest selling subscriptions door to door. Finding her feet in this gang of teenagers, one of whom is Jake, she soon gets into the group's lifestyle of hard-partying nights, law-bending days, and young love.
News & Interviews for American Honey
Critic Reviews for American Honey
Audience Reviews for American Honey
½
The film remains compelling even when it's narrative seems to be spinning it's wheels. For something that could easily have been insufferable that's quite an achievement.
Alec Barniskis
Super Reviewer
½
It can be pretty intimidating when a feature film is released with a run time that nears the three hour mark. Back in the day, films like Ben-Hur or Gone With the Wind were much more constant and that length was expected for some films. American Honey may not have needed to be quite this long, and I am here to express my feelings on why that is. This is a solid film overall, but could have been fantastic if it kept its run time around the two hour mark. When a film like King Kong (which is arguable) uses its time wisely, setting up characters and slowly building to a big reveal, that is a three hour run time used right. American Honey utilizes the tactic, while not quite having much of an impact in its final act. Here are my thoughts on this overlong, yet uniquely made film. I am not saying this only because Shia LaBeouf is one of the leads here, but when I watched this trailer, I was hoping for a vibe like A Guide to Recognizing Your Saints. That is a very polarizing film that I happened to find extremely powerful. Sadly, there are many elements explored this film that are not paid off, which is frustrating when that is not able to happen in a near three hour film. Following Star as she transforms as a character, she abandons her boyfriend and kids, joins a group of homeless drug addicts and drunks who sell magazine subscriptions for life, and develops relationships with the wrong people, making the wrong life choices along the way. Her transformation is what makes this film not seem quite as long as it is, but there is not enough closure for her character by the time the credits roll. Shia LaBeouf has not been see for a while, due to his actions in real life, but that doesn't seem to be stopping him from making a slow comeback. There is no way he took this job just for a paycheque, because he immerses himself in this role, becoming this character from start to finish. Having said that, actress Sasha Lane is what truly makes the remarkable scenes throughout this film as great as they are. Her portrayal of Star and her interaction with each and every character feels so well-realized. In the end, her character is what kept me sucked into this story from beginning to end. It is a hard movie to sit through at times and it's definitely for a very mature audience, but I do recommend it for her performance alone. While I am sure writer/director Andrea Arnold had a very good reason for having the old 4:3 Pan and Scan aspect ratio throughout the entire duration of the film, it will make average moviegoers wonder if they have an improper version of the film. To my knowledge, the last film to do this was Best Picture Oscar-Winner The Artist back in 2012. That film had a very clear vision and reason why that aspect ratio had been utilized. Aside from having a classic film feel, I went through this entire film, not really understanding why this was used. I am sure if I took the time to research it there will be a reason, but I feel as though things should be a little more apparent when watching a film. That being said, I found it very unique nonetheless and I can do nothing but applaud her guts for that choice. In the end, I enjoyed this film quite a bit, but I am struggling to recommend this film to anyone if I am being completely honest. Hardcore film lovers may get a kick out of certain styles used like I did or become immersed in this character's transformation, but I can see average moviegoers falling asleep to a film like this, especially for its lengthy run time. Overall, this is a very well-directed film and I hope Andrea Arnold continues to make quality like this in the future, but American Honey is for a very specific audience. I can only see 1 in 10 people really enjoying this film as far as the average moviegoer goes, but if you like quality films no matter what their content is, I am sure you will find things to like here. American Honey does not need to be three hours long, but it is a solid film nevertheless.
American Honey would have you believe that everything that happens in America happens at magic hour. That golden period in the day just before sunset during which the daylight is redder and softer than when the sun is higher in the sky. From depicting everything from its core group of ragtag door to door magazine salesman doing their best to scam the neighborhoods of middle America to seeing Jake (Shia LaBeouf) and Star (Sasha Lane) consummate their distressed relationship the film finds comfort in the waves of color exerted by the evening sky. American Honey, directed by Scottish-born filmmaker Andrea Arnold (Fish Tank), would have you believe that the underbelly of America is one of harsh lines between the white trash and the wealthier classes that populate the southern regions of the country though to disparage the cracks in American culture to little more than two distinct categories is one of the films unfortunate misconceptions that is apparent from the get-go. Were it not for the clear intention of American Honey to be this sprawling epic at nearly three hours this lack of delineation would be more forgiving, but that it truly gives itself time to develop its characters and the landscape in which they exist one would like to have been delivered a more complex portrait that better mirrors the melting pot one can easily see this country to be by simply driving through any county in as random a state as Arkansas. Residing in a state most likely tend to forget about in the grand scheme of our nation, Arkansas keenly displays the actuality of just how gentle those lines between classes can be. Still, this nagging flaw that is present throughout Arnold's nearly three hour thesis on what is both so discouraging about the United States and what makes it so simultaneously charming can't tear down the entire effort from being valiant as American Honey is ultimately a sweet ode to our misfit of a nation. The film goes on too long and doesn't have enough of a narrative drive or intriguing enough character arcs to invest our own selves in, but somehow it remains engrossing-uplifting even with its inability to acutely examine class relations rendered somewhat unnecessary by the films ability to display the inherent hopefulness in each of us despite all the ugliness we tend to see surrounding us. read the whole review at www.reviewsfromabed.com
Philip Price
Super Reviewer
American Honey Quotes
There are no approved quotes yet for this movie.
Discussion Forum
Discuss American Honey on our Movie forum!