American Made
(2017)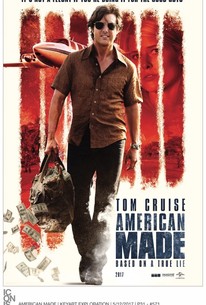 TOMATOMETER
AUDIENCE SCORE
Critic Consensus: American Made's fast-and-loose attitude with its real-life story mirrors the cavalier -- and delightfully watchable -- energy Tom Cruise gives off in the leading role.
Movie Info
Barry Seal, a TWA pilot, is recruited by the CIA to provide reconnaissance on the burgeoning communist threat in Central America and soon finds himself in charge of one of the biggest covert CIA operations in the history of the United States that spawned the birth of the Medellin cartel and eventually almost brought down the Reagan White House with the Iran Contra scandal.
News & Interviews for American Made
Critic Reviews for American Made
Audience Reviews for American Made
ASS WIDE SHUT - My Review of AMERICAN MADE (4 Stars) When's the last time you can recall saying, "I enjoyed the fuck out of a movie starring Tom Cruise?" It's been a few years for me, going back to EDGE OF TOMORROW and maybe WAR OF THE WORLDS before that way back in 2005. He's one of our greatest stars and somehow his crazy energy rarely gets tapped. His extended cameo in TROPIC THUNDER made good use of it, but in recent years, he's seemed hampered by CGI-driven blockbusters with little soul. He used to make daring choices, such as COLLATERAL, MAGNOLIA, and EYES WIDE SHUT, earning a spot alongside some magnificent directors. For me, he, Johnny Depp and Brad Pitt would often feel like character actors trapped in a leading man's body. Cruise has great skills as an actor, and when he gets to show it off, it's a joy to behold. Doug Liman proves a good fit, a director who takes chances and doesn't like a lot of fat in his films, such as his past collaboration with Cruise on the aforementioned EDGE OF TOMORROW. Coupled with Gary Spinelli's thrilling, nervous, hyper kinetic script, AMERICAN MADE is a propulsive, hugely enjoyable return to form for all involved. Loosely based on a true story, Cruise plays Barry Seal, a TWA pilot stationed in late 1970s Louisiana with his wife Lucy (Sarah Wright from PARKS AND RECREATION, and a revelation here) and young daughter. Bored with his repetitive job, he smuggles in Cuban cigars on the side for the extra cash and perhaps to once again feel "the need for speed" in his life. From here, he attracts the attention of Pablo Escobar and company, who would go on to be notorious as the heads of the Medellin Drug Cartel in Colombia. They want him to transport cocaine into the U.S. and they offer substantial amounts of cash to do so. He eventually catches the eye of the CIA when a man named Schafer (Domhnall Gleeson, loose, menacing and downright scary at times) corners him one day and proposes he transport guns to the Nicaraguan Contras who are fighting the Communist Sandinista regime. Following me so far? I know, it's a lot. It gets even more complex, but suffice it to say, Seal is in way over his head and doesn't even know how to properly stash the mounds of money he's making. Despite a complicated storyline, AMERICAN MADE is so swift, clean, and in every frame has such forward momentum. This is a fun movie to watch as Seal risks his life running artillery and drugs all over Central and North America. Cinematographer César Charlone (CITY OF GOD) gets some gorgeous images across, but everything feels alive and in sync with the energies of the story. One jaw-dropping shot in particular shows Lucy straddling Barry as their private plane hits an air pocket, sending anything not tied down up in the air and then crashing down. It's the kind of expressive shot that makes movies a joy to behold. The final image of the film is also a stunner of a fading freeze frame. Veteran editor Andrew Mondshein's previous work doesn't suggest what he's done here, which is make something so complex so easy to follow and a fast, furious blast. As Barry goes from one insane scenario to the next, I was reminded of GOODFELLAS, which feels like a 2nd cousin to AMERICAN MADE. As we did with Ray Liotta's character, we understand the kick Barry gets from being in such dangerous but lucrative situations. Cruise's desperation in these scenes works wonders, particularly when he needs to move his family in the middle of the night. In fact, Cruise has a lightness throughout, whether he escapes a crashed plane with coke covering his entire body or when he's mooning his family. There's a lot of Tom Cruise ass in this movie, exposed or covered in period appropriate tight slacks. He's playing like he's still making TOP GUN or RISKY BUSINESS, but there's more gravity in his work now. It's easy to dismiss this film as a crazy lark, but AMERICAN MADE mines territory that got us to where we are today as a country. All of the crazy behind-the-scenes deals, having a dialogue with criminals or ideologies we cannot begin to comprehend, all in the name of protecting our "interests" brings us right to this very moment in our history. It asks the tough questions, such as what are you willing to overlook in order to make money? Seals is a morally compromised character, who charmingly pleads ignorance every step of the way. He's a modern day Chauncey Gardner, who will bend in the direction of whoever is paying attention to him at any given moment. He's a lovable stooge who manages to wriggle his way out of the most dire of circumstances. I loved seeing GLEE's Jayma Mays as a frustrated D.A. who can't quite get Seals in her grip. I wish there was more to Jesse Plemons' role and I suspect there was, but got cut for time. Caleb Landry Jones (GET OUT) shines, as usual, as Barry's in-law, a trashy fuckup who could potentially spell the end of Barry's good times. All told, AMERICAN MADE fits wonderfully into that "they don't make them like they used to" category. It has that renegade quality of the best of the Golden Era 1970s thrillers. Despite the era in which it takes place, it reminds us how easily a total idiot can come around and fuck everything up for this country.
Glenn Gaylord
Super Reviewer
In the mood for a wee bit o'fun at the flickers, then go no further as Cruise breezes through this 'based on a true story' tale as a bored pilot who's offered some unbelievably profitable sideline action working for the CIA. You'll wish you had a pilot's license by the end of it. Or at least a blonde wife. The most fun Cruise movie in awhile.
Kevin M. Williams
Super Reviewer
An interesting (supposedly true) story told erratically with the wrong actor in the lead. Cruise hasn't done it for me since Tropic Thunder and I thought of a handful of actors who would have acted it better (a Woody Harrelson or Matthew McConaughey for instance) However we all need to see more of Sarah Wright however. (10-6-17)
American Made Quotes
There are no approved quotes yet for this movie.
Discussion Forum
Discuss American Made on our Movie forum!