Andrei Rublev
(1973)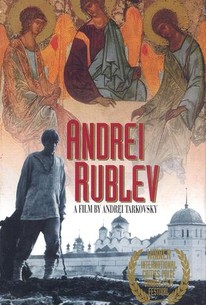 Movie Info
In this film, set in the 15th century, Anatoly Solonitsin plays the title character, a legendary icon painter/political activist. Rublev gives up his work entirely after being forced to kill a man. However, he eventually comes to terms with himself and continues painting.
News & Interviews for Andrei Rublev
Critic Reviews for Andrei Rublev
Audience Reviews for Andrei Rublev
Andrei Tarkovsky's work is pure poetry as he dwells for over three hours on the dominions of faith, brutality, and, mainly, the role of the artist in our world. A true masterpiece that should be seen and revisited many times by those who appreciate works of Art.
Carlos Magalhães
Super Reviewer
½
The power of Andrei Tarkovsky's work lies in its storytelling and sense of visuals, using both aspects of film, he sucks you in and you are taken on an ambitious journey. With this stunning epic, he crafts a grand portrait of Andrei Rublev, a medieval Russian painter. The film is steadily paced, slow, and it takes time for the story to unfold, but things start to pick towards the middle of the film, and there are several interesting and engaging segments, which are divided in seven parts. This film never saw a proper release when completed in the 60's, as Soviet authorities deemed it too religious and they took it upon themselves to cut plenty of the footage out of the film. I enjoyed this film, and I thoroughly enjoy big, ambitious films that are grand, take risks and are memorable. This is superb filmmaking, and I believe it is one of the finest foreign epics in cinema. Brilliantly constructed, directed, acted and shot, Andrei Rublev is a grand picture that is purely and simply, masterful filmmaking. Andrei Tarkovsky is what I would call an acquired taste, his films are a bit hard to get into, but once you do get into them, you're just so involved at what he accomplishes with his camera. I would say he was the Russian equivalent of Stanley Kubrick, because he is simply an artist, his vision and ideas and one of a kind, and though this is my second film of Tarkovsky's that I have watched, the first being Solaris, which for me is his masterwork, and a masterpiece of Science Fiction. His visionary storytelling is what makes him unique, and he tackles big, ambitious topics that are terrific entertainment for film enthusiasts that are looking for some of the finest "art" films in the cinematic medium. Tarkovsky's crafts a solid picture that has a great story, and since it's divided in parts, some viewers might find that a few segments are better than others, and that's understandable. However as a whole, this is a satisfying, and truly unique viewing experience, and we get to see a director who is at ease with such grand ideas of storytelling, and in the end, we get an experience like no other, and for true film lovers, we couldn't ask for any more.
Tough going but definitely worth it with a slew of indelible images and scenes. Full review later.
Thomas Bowler
Super Reviewer
Andrei Rublev Quotes
There are no approved quotes yet for this movie.