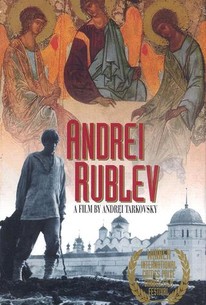 Andrei Rublev
1966, Biography, 2h 45m
43 Reviews
10,000+ Ratings
What to know
critics consensus
Andrei Rublev is a cerebral epic that filters challenging ideas through a grand scope -- forming a moving thesis on art, faith, and the sweep of history. Read critic reviews
Where to watch
Rent
Rent/buy
Rate And Review
Movie Info
An expansive Russian drama, this film focuses on the life of revered religious icon painter Andrei Rublev (Anatoliy Solonitsyn). Drifting from place to place in a tumultuous era, the peace-seeking monk eventually gains a reputation for his art. But after Rublev witnesses a brutal battle and unintentionally becomes involved, he takes a vow of silence and spends time away from his work. As he begins to ease his troubled soul, he takes steps towards becoming a painter once again.
News & Interviews for Andrei Rublev
Audience Reviews for Andrei Rublev
Andrei Tarkovsky has gone down in the history of cinema as being the most important Soviet director in the second half of the twentieth century. His 1966 film "Andrei Rublev" has been considered the "most historically audacious production in the twenty-odd years since Sergei Eisenstein's 'Ivan the Terrible.'" It was intially banned by the Soviet government for being too experimental, too violent, too frightening and too political to be realeased and was repressed for five years and not officially shown in the Soviet Union until 1971. It was screened at the Cannes Film Festival in 1969 but due to pressure from the Soviet Union it was shown out of competition. Many different versions of the film survive due to many producers, politicians, and distributers demanding the 205 minute original cut to be reduced. Citing the film's negativity, violence and nudity as things that should be cut. Criterion released the original 205 minute cut in the mid-1990's on laserdisc and later on DVD in 1999 advertising it as a "director's cut" despite Tarkovsky's preference for the 186 minute cut. The transfer for the laserdisc was actually sourced from a film print director Martin Scorsese had acquired while visiting Russia. Andrei Rublev was an icon painter for the Eastern Orthodox Christian Church in medieval Russia. The Russian Orthodox Church had canonized Rublev as a saint in 1988 and celebrate his feast day on January 29. Not much is really known about his life and Tarkovsky's film only uses his life and what is known to make a grander statement about goodness in a world full of evil. Rublev experiences doubt, regret, guilt throughout eight episodes in his life. The film isn't linear, nor does every vignette feature Rublev. The film takes the idea that you can understand the time period through the life of a man. Princes at odds with one another over territory and constant raids by Tatars. A very challenging film to watch and disect, but a beautifully directed film.

Andrei Rublev is an absolutely magnificent film. From the opening sequence to the end, we are treated to amazing production, wonderful imagery, masterful directing, and vigorous Russian acting that make the film a very vivid and cinematic experience. This is one of those great epics you must see because you do not want to take the chance of missing out on what you may find to be an all-time great film.

The power of Andrei Tarkovsky's work lies in its storytelling and sense of visuals, using both aspects of film, he sucks you in and you are taken on an ambitious journey. With this stunning epic, he crafts a grand portrait of Andrei Rublev, a medieval Russian painter. The film is steadily paced, slow, and it takes time for the story to unfold, but things start to pick towards the middle of the film, and there are several interesting and engaging segments, which are divided in seven parts. This film never saw a proper release when completed in the 60's, as Soviet authorities deemed it too religious and they took it upon themselves to cut plenty of the footage out of the film. I enjoyed this film, and I thoroughly enjoy big, ambitious films that are grand, take risks and are memorable. This is superb filmmaking, and I believe it is one of the finest foreign epics in cinema. Brilliantly constructed, directed, acted and shot, Andrei Rublev is a grand picture that is purely and simply, masterful filmmaking. Andrei Tarkovsky is what I would call an acquired taste, his films are a bit hard to get into, but once you do get into them, you're just so involved at what he accomplishes with his camera. I would say he was the Russian equivalent of Stanley Kubrick, because he is simply an artist, his vision and ideas and one of a kind, and though this is my second film of Tarkovsky's that I have watched, the first being Solaris, which for me is his masterwork, and a masterpiece of Science Fiction. His visionary storytelling is what makes him unique, and he tackles big, ambitious topics that are terrific entertainment for film enthusiasts that are looking for some of the finest "art" films in the cinematic medium. Tarkovsky's crafts a solid picture that has a great story, and since it's divided in parts, some viewers might find that a few segments are better than others, and that's understandable. However as a whole, this is a satisfying, and truly unique viewing experience, and we get to see a director who is at ease with such grand ideas of storytelling, and in the end, we get an experience like no other, and for true film lovers, we couldn't ask for any more.

Perhaps it was the state of the restoration but I found Rublev to be difficult to sit through for its duration.
See Details