Anita - ur en tonårsflickas dagbok (Anita: Swedish Nymphet) (Anita)
(1973)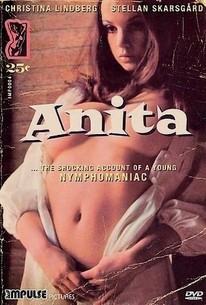 AUDIENCE SCORE
Critic Consensus: No consensus yet.
Movie Info
Swedish cult-film starlet Christina Lindberg appears opposite international film star Stellan Skarsgård in director Torgny Wickman's controversial erotic drama. Anita (Lindberg) is a young girl whose troubled childhood and neglectful parents have left her hungering for love. A psychologically unstable nymphet driven to pleasures of the flesh, Anita soon finds a kindred soul in kindly university student Erik (Skarsgård). As Erik and Anita's relationship grows increasingly intimate, the sympathetic student attempts to help his troubled friend work through her many problems. Anita is more than willing to open up to Erik, and upon listening as his new friend recounts all the details of her sordid past it becomes increasingly obvious to Erik that the only way for Anita to conquer her nymphomania is to experience a genuine orgasm.
Cast

Critic Reviews for Anita - ur en tonårsflickas dagbok (Anita: Swedish Nymphet) (Anita)
All Critics (2) | Fresh (2) | Rotten (0)
A soft-core film that shows the consequences of nymphomania, instead of exploiting compulsive sex. Real nymphomaniacs don't enjoy. [Full review in Spanish]
Audience Reviews for Anita - ur en tonårsflickas dagbok (Anita: Swedish Nymphet) (Anita)
People debate today whether there really is such a thing as nymphomania, or if it was just a term pinned on women who tried to lead a naturally healthy sex life back in much more repressive, Victorian times when such a thing was not permissible. One thing's for sure though , if this particular movie is based on a real story as it claims to be, this girl definitely had a serious problem. The girl in this movie (played by Christina Lindberg) , will sleep with anybody, and I do mean anybody. This turns her into a social outcast (because of course, nobody likes a beautiful girl who wants to have sex all the time). She's like a junkie in her compulsion, begging for the key to a friend's apartment so she can have quickies with unattractive businessmen she picks up at the train station. And when one kindly elderly guy tries to console her after an unsatisfying sexual encounter, she drops to her knees to give him the b.j. of his life. All this is treated in a very serious, at times almost depressing manner, and Lindberg gives a very earnest performance. Since I doubt too many people then or now watched this movie out of concern for the social problem of nymphomania (more likely they wanted to know where they could find a girl like this), this move and Lindberg's performance may seem pretty campy. I have to say though I'd much rather see a movie like this that sets out to be somewhat serious and falls into camp than a movie that aims at camp and falls flat on its face. And though Lindberg will never be mentioned in the same breath as Greta Garbo, her overly seriously performance here is infinitely better than most modern-day "cult actresses" and "scream queens" camping and mugging their way through movies that they (very erroneously) consider beneath their talents. In any case, campy or not, this movie definitely succeeds as exploitation thanks to Lindberg doffing her duds every five minutes or so. If you've never seen Christina Lindberg, she's kind of like really sexy mutant or mythical beast--she has the face of an innocent teenage Swedish schoolgirl attached to the body of a voluptuous burlesque-era stripper (which is not at all to say that her appeal is limited to those who dig schoolgirls or burlesque strippers). Her most memorable scene here is where she and her goody-good twin sister are singing for their parents' friends and she turns the occasion into an impromptu full-monty striptease. And if you are a fan of Lindberg, or become one after this movie, also check her out in "Thriller--a Cruel Picture" (a favorite of mine), her first film "Maid in Sweden", the German "schulmadchen report" films in which she was a regular, and the unbelievably depraved film "Depraved". She's almost always worth the price of admission all by herself.
David Ladd
Super Reviewer
Anita - ur en tonårsflickas dagbok (Anita: Swedish Nymphet) (Anita) Quotes
There are no approved quotes yet for this movie.