Antibirth
(2016)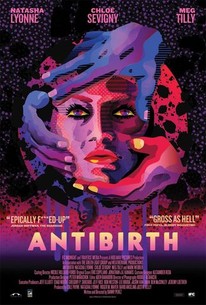 TOMATOMETER
AUDIENCE SCORE
Critic Consensus: Antibirth's outstanding performances anchor its wilder flights of fancy, making this surreal horror outing from writer-director Danny Perez more than a garish curiosity.
Movie Info
Hard-drinking, pill-popping, bong-ripping Lou (Natasha Lyonne) and her best friend Sadie (Chloë Sevigny) spend their days adrift in a druggy haze. But one wild night out becomes a bad trip that never ends when Lou wakes up with symptoms of an unexplained, highly abnormal pregnancy. Who-or what-is growing inside her? As her due date approaches with alarming swiftness, the fear, paranoia, and conspiracy theories begin to pile up. Spiked with blasts of hallucinatory color, surreal shocks, and subversive comedy, the audacious feature debut from Danny Perez is a no-holds-barred descent into delirium.
News & Interviews for Antibirth
Critic Reviews for Antibirth
Audience Reviews for Antibirth
You know I always talk about how movies, in general and not just horror, need to take far more risks than they do. But that's not what makes money, at least in the mainstream. The independent film scene is where all those creative people go to explore their craft and just to try a whole host of new concepts. I completely understand why films in, say, the Marvel Cinematic Universe don't really take risks. There's a lot of money put into the making and promotion of those films, so therefore they'd want to make something that appeals to the largest number of people possible. It makes sense. I'm not gonna spend hundreds of millions of dollars on a movie that takes risks because I would not know if those risks are gonna pay off and make me a profit. Back to the independents, they can get away with this because the risks are significantly lower. Of course you'd want to recoup your investment, but it's not so much of a loss if a film like this doesn't hit it big at the box office, because word of mouth will pretty much take care of that. This film being the way it was, it was pretty much ensured that it would have a cult following. That's just the way it is. Is it a deserved cult following? Both yes and no. Yes in that the movie, by its climax, goes to some really fucking weird places. Hell, the movie goes to some weird places prior to the climax. And no because I found the movie really didn't resonate with me because its story moved at a relatively languid. There's nothing inherently wrong with that and the movie, for sure, was never bad at any point during these parts. But I just found the story hard to get into when so much of it was centered around what actually happened to Lou the night she went to that party where she blacked out. The story, obviously, doesn't focus solely on that. One of the things I liked about it how it portrays pregnancy different from what you'd normally see. Which is one of the things that inspired Danny Perez, writer and director, to make this in the first place. He wanted to subvert the usual tropes of how pregnancy is viewed as this blissful and beautiful thing where women glow. He wanted to showcase some of the more gruesome elements associated with it and what it actually does to a woman's body and I definitely appreciated those themes. It might not be the first movie that tackled pregnancy this way, but it's still a relatively novel approach that you do not see often in any movie, not just horror flicks. So, obviously, I have to give props for that. The story, essentially, is Lou trying to figure out what happened to her at this party she went to that led her to become, seemingly, pregnant. This in spite of the fact that Lou, as far as she recalled, hasn't had sex since she had a miscarriage six months prior to that party. As the baby, or whatever it is, develops inside her, she starts experiencing strange things and hallucinations when she sleeps. This get worse the longer she's pregnant. She eventually meets this woman, Lorna, who claims to have been experimented on by the military once she found that she had this growth in her arm. Lorna proceeds to help Lou find the truth. This is where the movie lost me. Not that Lorna isn't a good character, or that Meg Tilly isn't good in her role, but I just felt the movie lost a bit of focus here. Having said that, the movie is really well-cast. I've always liked Natasha Lyonne's work and she's pretty great here. Meg Tilly is really good as well. And Chloe Sevigny is also strong, which goes without saying. If someone has any problems with the film, it certainly can't be with the cast. Having said that, this brings us to the climax, which is where the movie really kicks it into high gear. I failed to mention one other inspiration Mr. Perez had in making this movie. He was also inspired by conspiracy theory videos he saw on YouTube, as well UFO videos. I found the movie really kicked it into high gear once you find out that what's happening to Lou is that she's really just a guinea pig to test the effects this new drug has on people. If Lou lives through it then the drug dealer in question would proceed to sell it. Of course things become complicated when, GIGANTIC SPOILERS AHEAD, the body that Lou was carrying inside her body was that of an alien. At first only its head is 'born', before the rest of the body comes out and kills all the assholes. It sounds silly and, really, it kind of is, but I felt that this was the kind of thing that the movie needed to push it to the next level. The fact of the matter is that a movie like this needed a crazy ending to live up to everything it had done prior to it. If the story had been resolved in a 'believable' manner, or as believable as it can be in this setting, then it would have been a disappointing experience. The fact that it ended the way it did made it, to me, a worthwhile experience. And I wasn't feeling that way prior to the climax. Yes, it is a movie that just squeaks out a good rating at the last second, but I still enjoyed it and the climax is well waiting for. Strong actors and surreal images keep this movie from falling apart in its weaker moments. I'd recommend it, give something a new a shot.
Jesse Ortega
Super Reviewer
½
And the award for "Most WTF Movie of Year" goes to: "Antibirth". This is the movie that Rob Zombie wishes he could make but will never pull off. It is difficult to call it a "good" movie, but I'll be damned if it isn't extremely entertaining. Natasha Lyonne's performance as Rosemary via Jerri Blank is crass and classless, and I mean that in the best way possible. In fact, every sleazy character is worse than the next, and the visual aesthetic, soundtrack, and characters bring to mind "They Live", "Videodrome", and probably most heavily "Twin Peaks: Fire Walk with Me". The bits of body horror amidst the other-worldliness and substance abuse actually work because of the lost art of PRACTICAL EFFECTS. Probably what makes this a cut above standard modern horror schlock is that the CG is minimal and mostly environmental, granting genuine camp to what would otherwise be standard 80's nostalgia. As horror goes, there are better films this year - but not many.
K Nife Churchkey
Super Reviewer
Antibirth Quotes
There are no approved quotes yet for this movie.