The Appaloosa
(1966)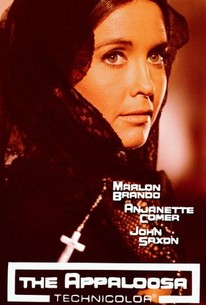 AUDIENCE SCORE
Critic Consensus: No consensus yet.
Movie Info
The theft of a buffalo hunter's beloved horse by an evil Mexican bandit leads to an escalating series of violent confrontations in this western. The rivalry becomes even more intense when the hunter and the bandit's girlfriend fall in love, which triggers a final bloody showdown.
Critic Reviews for The Appaloosa
Audience Reviews for The Appaloosa
½
Marlon Brando is heading back to the desert, and this time, he's not the one pretending to be Mexican. Yeah, John Saxon better get a Golden Globes nod for Best Supporting Actor for this film, because it's kind of racist how he's expected to pull off Mexican bandit, just because he's of Italian descent. In all fairness, Sidney J. Furie is Canadian, and he was expected to direct films as American as this western, then most "The Purple Hearts", most of the "Iron Eagle" movies, and 2005's "American Soldiers". ...You know, thinking about those films, and the fact that one of Furie's most infamous films is "Superman IV: The Quest for Peace", it's easy to get terrified about the quality of this film, even with Marlon Brando attached. Actually, I think Brando's involvement is most disconcerting, because even though I think that "Viva Zapata!" was pretty good, and that "One-Eyed Jacks", I'm the only one who thinks that Brando has a decent track record with westerns. Sure, those two films only got mixed reviews, but they must have turned someone off to seeing a third western starring Brando, although, in all fairness, by 1966, America had to have been tired of westerns. I guess that's why they got a Canadian director, even he has to be Furie, who does a decent job with this film, but can't get it past its issues. The level of subtlety in this drama is rather uneven, and when things do get subtle, they tend to get just subtle enough to dry out the atmosphere, at times in which a subdued tone falls over moments of meandering that get to be dull on more than a few occasions. When that level of subtlety settles, the film often takes an extreme turn by drawing thin character types and melodramatics, resulting in some sense of contrivance that goes backed by cloying moments in director Sidney J. Furie's directorial plays on tone, score work and visuals. If there is ambition in this piece of revisionist western filler, then it is mostly applied to some sort of exaggeration, in both writing and direction, rendering the film somewhat cheesy with its handling of potentially intense material, not unlike so many other westerns in its vein. It's only fitting that this film be exaggerated in such a way, because it is nothing but a very typical 1960s revisionist western, featuring all of the same characters, all of the same themes and all of the same plotting tropes we're used to, to where there's some sense of laziness to accompany some sense of predictability. It doesn't help that, for a revisionist western drama of its time, this film's subject matter is rather light in weight, having its dramatically potent moments, but mostly aiming to be something of an inconsequential piece of revisionist western that focuses on an entertainment value that ironically ends up being somewhat lacking. The film is reasonably engaging, with compelling occasions, but much too often, it is too dull to justify the lightness of its story, and too contrived and clichéd to compensate for the pacing problems. The final product is pretty forgettable, but for the moment, it is adequate, and more than just in a few areas, particularly those of an aesthetic nature. Frank Skinner's score doesn't always fit the tone of this somewhat tonally versatile drama, and it is always some degree of conventional, but its spaghetti western influences, encompassing western classical stings and Latin twang, break the monotony of the quiet spells with inviting musicality that is generally complimentary to the storytelling. The visual style of the film is even more complimentary, with art directors Alfred Sweeney and Alexander Golitzen, joined by impeccable costume designs, crafting a conventional, yet immersive portrayal of the revisionist West that is made all the more striking by Russell Metty's deliverance of excellent cinematography, whose emphasis on gritty coloration and bleak lighting ranges from handsome to truly stunning. Sidney J. Furie's direction further draws you into the visual style of the film, with near-perfect framing that throws a broad scope over well-staged action sequences, and utilizes stylish angles and intimate close-ups during dramatic segments, whose effectiveness is fumbled by Furie in most every other way, though not to where the bland thoughtfulness fails to beget immersion value, or to where the contrived dramatic kicks fail to resonate. These occasions of effectiveness derive from highlights in the material within James Bridges' and Roland Kibbee's thin and clichéd script, whose moments of realization are almost as solid as the moments of misguidance, featuring moments of excellent, dramatically-charged dialogue that prove to be touching, while establishing an adequate sense of character motivation and nuance which brings life to themes on whether or not defending your honor is worth risking your life, and the lives of good, perhaps more innocent people. After something of a lazy body, the film comes down to a pretty compelling final act, although the drama has its strong aspects throughout its course, too spare for the final product to transcend underwhelmingness, or even come close to doing so, but prominent enough to bring some heart to this inconsequential project. The cast is most consistent in humanizing this drama, for most every member turns in an admirable performances, particularly the beautiful Anjanette Comer, the bitingly effective John Saxon, and, of course, leading man Marlon Brando, who plays his usual western role, complete with a nuanced presence of both strength and vulnerability. The performances are always pretty compelling, even though the film fails to compel all that thoroughly all that often, ultimately falling as pretty decidedly underwhelming, but still having enough admirable qualities to be worth watching, through all of the shortcomings. Bottom line, the film gets to be dull with its slow spells, contrived with its melodramatics, and clichéd in its sometimes lazy telling of an ultimately relatively inconsequential revisionist western tale, ultimately falling as underwhelming, in spite of the highlights the thrive on the excellent score work, art direction and cinematography, often effective direction, sometimes nuanced writing, and consistently strong acting which make Sidney J. Furie's "The Appaloosa" decent, with compelling highlights, few and far between, though, they may be. 2.5/5 - Fair
Cameron Johnson
Super Reviewer
Marlon Brando's career in the 1960s is certainly not the barren wasteland that it's often proclaimed to be. This is another interesting, albeit flawed movie from the decade that boasts a strong piece of acting from the legendary star. The patience-demanding structure of the film grows mildly tiresome at times, but for the most part I enjoyed the approach. A slick photographic venture, it manages to stay out of the confines of its genre for the most part, with only flashes of cheesy cliche.
The Appaloosa Quotes
There are no approved quotes yet for this movie.