Aragami
(2003)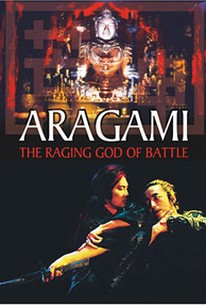 AUDIENCE SCORE
Critic Consensus: No consensus yet.
Movie Info
Ryuhei Kitamura, director of the cult action hits Versus and Alive, made this samurai movie about a legendary supernatural creature. In the middle of the night, two wounded samurai come upon a remote mountain temple. One of them dies. The other, after recovering from his wounds, meets the occupant of the temple, a brooding warrior who tells him that he is the legendary goblin Aragami, a god of war who eats human flesh and is invincible in battle. Wearied by his apparent immortality, he is searching for the one mortal who can defeat him, and hopes that his visitor is the one to do so and take on both his powers and the burden of eternal life. Aragami is one half of the "Duel Project," in which Kitamura and fellow director Yukihiko Tsutsumi agreed to each make a film involving a duel to the death. Tstutsumi's half of the bargain is entitled 2LDK. ~ Tom Vick, Rovi
Critic Reviews for Aragami
All Critics (2) | Fresh (2) | Rotten (0) | DVD (3)
an epic two-hander that seems all the more ambitious in scope for its near Aristotelian unity of time, space and action.
Kitamura showed us in Versus that he knows his way around an action sequence, and he remains in top form here.
Audience Reviews for Aragami
½
A master demonic swordsman saves the life of a skilled samurai warrior hoping he'll be the one worthy enough to take his life in a duel to the death. This is the other half of the 'Duel Project' where two directors challenged eachother to make a film in a week using the theme of a battle to the death. I didn't quite enjoy this as much as '2LDK' but it's still a pretty good film. It's quite slow and talky early on, but the action when it gets going is pretty cool, nicely choreographed with exciting camera work.
As usual with Kitamura, too much build up and weak pay-off.
Tsubaki Sanjuro
Super Reviewer
½
This is one of the movies done for the "Duel Project". The other movie is 2LDK. Basically it was a challenge sent out to a couple of directors from a producer. I tell you, these Japanese know how to conduct movie business. Anyway here is the terms of the project:
-one set.
- two to three characters.
- the characters have to fight each other.
- at least one of the characters must die.
- filmed in seven days.
Here is a simple flow of this movie. Talk, fight, talk, fight, talk, fight, and talk. There you have it. 75 minutes worth of talking and fighting. Before watching this I had a feeling that this wouldn't be Kitamura's best work and predicted that it was going to be completely boring. But, after seeing the terms of this film I started to appreciate it much more. Oh, and this isn't Kitamura's best work.
As you've seen from the terms above, the entire 75 minute movie takes place in one room with two main characters. There are actually 5 total in the film but the 2 cameos from Hideo Sakaki, in the beginning, and Tak Sakaguchi, at the end, doesn't count since they each only had a few seconds of air time and no lines. The third character is played by Kanae Uotani and she can be considered a supporting character. She does have quite a few minutes of airtime, but she has no lines until a few short ones at the end.
The story itself isn't too bad and it is a little science fictiony, which I do enjoy. The cinematography and dialogue have Kitamura written all over it. The Kitamura-esque cinematography helps to keep the film from becoming a huge borefest and the dialogue helps with that as well. Although the dialogue is pretty good, the talking in the first half of the movie did seem to go off track at points and made the film drag a little bit. It could have used more humor to help liven things up as well. Don't get me wrong, there was humor, just too little of it.
As far as the action goes it is all sword fights. Hey, it is Kitamura! He loves his swords. Alright, he does find the time to put guns in here as well, but they aren't used. Sword fights all the way! If you are familiar with Kitamura's other works like Versus or Sky High, then you know what to expect from his swordplay. Nothing fast and furious. Just some great cinematography, choreography, and some of the ever-so-popular in fight poses. I myself enjoy Kitamura's swordplay style, although many others may not. The final fight actually had some pretty impressive lighting effects to make it the best fight of the film, which it should have been. Lastly, Nobuhiko Morino does the music (technoish-rock) again and it works well.
With the rules that were imposed on this film I must say it was pretty well done. If you're a Kitamura fan, which I am, then you probably want to check this out. If you're a upcoming director you may also want to check this out. Everyone else can just take their chances on this one.
My choice for the winner: Aragami, and it wasn't based on the fact that I'm a Kitamura fan.
Watch both films and make your own decision.
Aragami Quotes
There are no approved quotes yet for this movie.