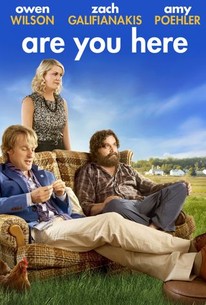 Are You Here
2013, Comedy/Drama, 1h 53m
51 Reviews
5,000+ Ratings
What to know
Critics Consensus
Given the amount of talent assembled on both sides of the camera, Are You Here falls bewilderingly flat. Read critic reviews
Where to watch Are You Here
Free
Rate And Review
Are You Here Photos
Are You Here (2013)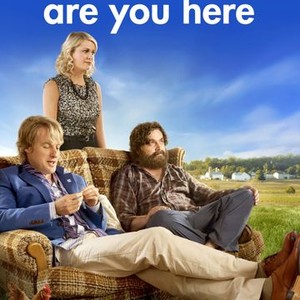 Are You Here (2013)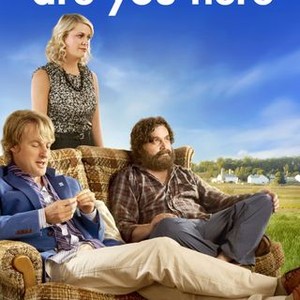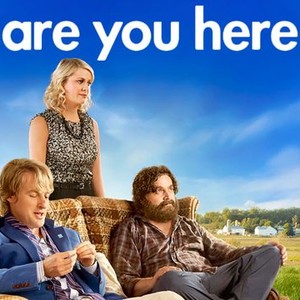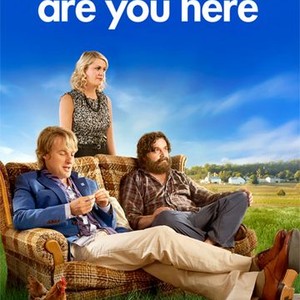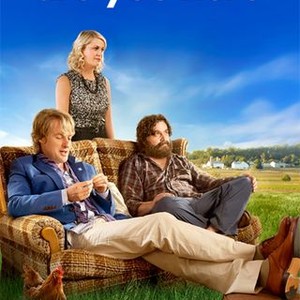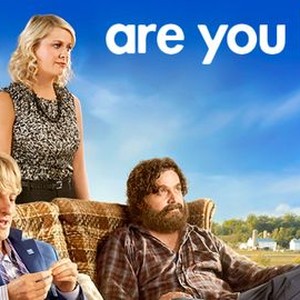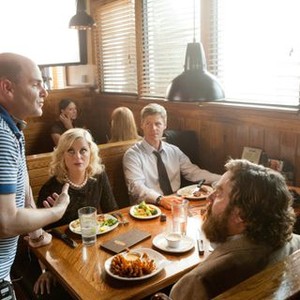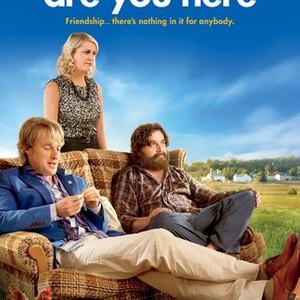 Are You Here (2013)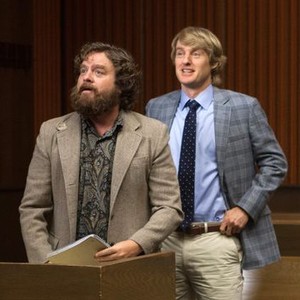 Are You Here (2013)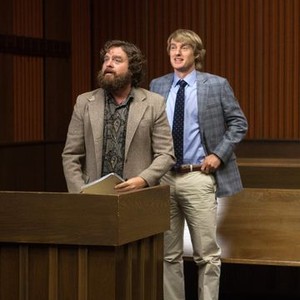 Are You Here (2013)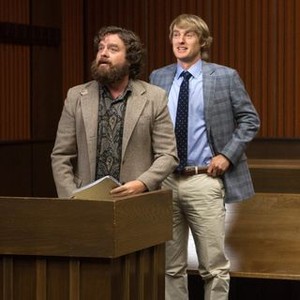 Are You Here (2013)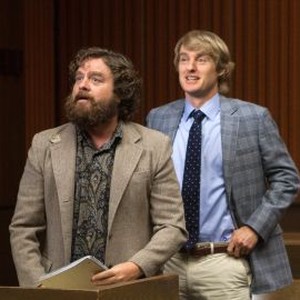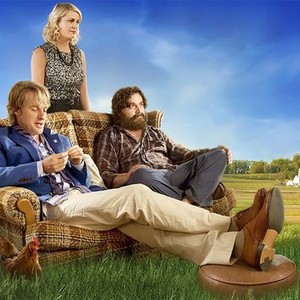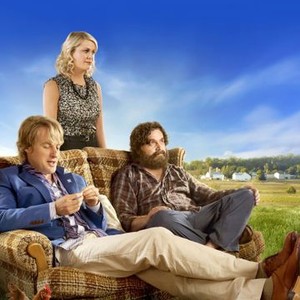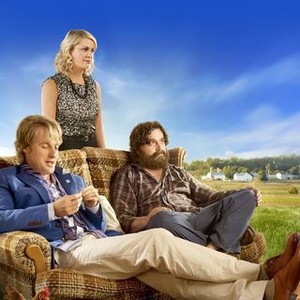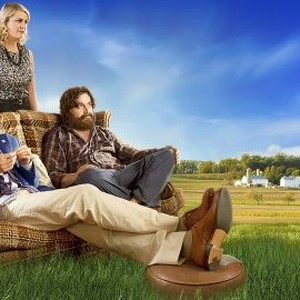 A scene from "Are You Here."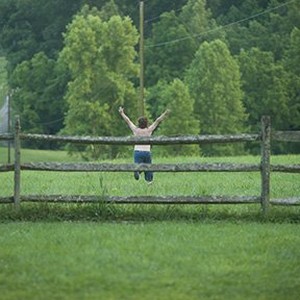 (L-R) Zach Galifianakis as Ben Baker, Owen Wilson as Steve Dallas and Amy Poehler as Terri Coulter in "Are You Here."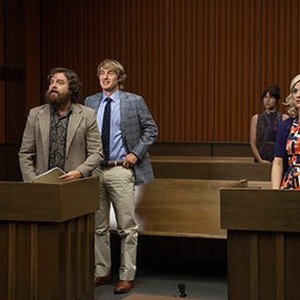 (L-R) Owen Wilson as Steve Dallas and Zach Galifianakis as Ben Baker in "Are You Here."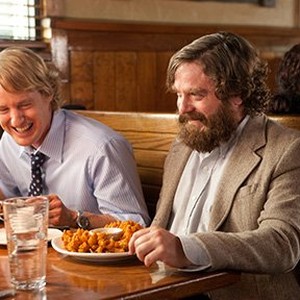 (L-R) Owen Wilson as Steve Dallas and Zach Galifianakis as Ben Baker in "Are You Here."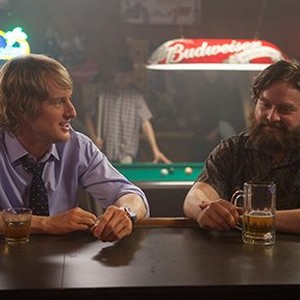 Movie Info
After his eccentric pal (Zach Galifianakis) inherits a fortune from his estranged father, an aimless, womanizing weatherman (Owen Wilson) becomes involved in the legal battle initiated by his friend's sister (Amy Poehler).
News & Interviews for Are You Here
Audience Reviews for Are You Here
And so I disagree with the Tomatometer. S**t happens, eh, but I got a kick out of the snappy dialogue and for what I took for pretty smart characterizations. Matt Weiner, "Mad Men" creator wrote and directed this piece wherein, as I see it, one of the serious interpersonal problems experienced by the characters is that everyone thinks of themselves as a shrink of some sort (imagine a bar on the bad side of town near closing time, only everybody's smiling condescendingly). Me likey a lot.

A lackluster comedy, Are You Here delivers some laughs but doesn't have much of a plot. The story follows a weatherman who leaves the big city and goes to the countryside to help his best friend through the death of his father, but his friend's mental and emotional problems tests the limits of their friendship. Starring Owen Wilson, Zach Galifianakis, and Amy Poehler, the cast is pretty good; particularly with this type of comedy. The writing however, is rather weak and unfocused. Still, it tries to say some things about finding one's purpose, and appreciating what one has. Are You Here is entertaining at times, yet doesn't really work all that well.

You'd think, or rather hope, that Matthew Weiner, creator of Mad Men, one of the most critically acclaimed shows on TV since it started airing in 2007, would make a better movie than Are You Here, his feature film debut. Well, unfortunately, you would be very, very, very, very wrong about that. First of all, this movie is wrongly categorized as a comedy, and it is simply not that at all. Perhaps Matthew Weiner had every intention in the world to make this a comedy, but boy did he fail miserably. Not saying it doesn't have its 'funny' moments, but they're worth a chuckle or two, there's nothing really substantial. Really this film was meant to be a drama with some comedic touches here and there. I think Weiner's intentions were to make a dramedy, as in equal parts drama and comedy. This is just a really awkward film, tonally, to say the least. It never seems to gain its footing as it stumbles out of the gate, solid performances be damned. If one thing cannot be said about Mr. Weiner as a director, it's that he doesn't get good performances from his actors. The movie just never finds its own identity, jumping around from stoner comedy, bromance, romantic comedy, family drama, serious examination of mental illness all in on one poorly thought out package. The way it just jumps around between different styles leaves a lot to be desired. The film's first 40 minutes are absolutely dreadful. I was actually compelled to stop watching, I shut the movie off at the 45 minute mark because I was really tired and needed to close my eyes, but at that point the film had gone so poorly that it wouldn't have bothered me if I actually shut it off and didn't finish watching it. I'm not saying I really regret that decision, cause it's not like the film improved a thousandfold, but it did improve...like if a kid is 3 feet tall, and he went to 3'1". The improvement is barely noticeable, it's infinitesimal really. But it's still an improvement. The film still remains as unfocused and inconsistent as ever, but there's something that's better. The film explores the need some people feel to inject themselves with chemicals, whether it be drugs or alcohol, as a social lubricant, or in Ben's case, something to calm his behavior so he could function in a real society. I think, at its core, the film is about people finding their place in life after a personal tragedy brings them all together. Unfortunately the character, at THEIR core, aren't particularly interesting. They're actually a bit on the bland side to be honest. Getting good performances out of your actors doesn't make your characters any better. All it does is slightly elevate some pretty lame material. I think there was a good concept here with Ben's mental illness and how he, and those around him, deal with it, but it's muddle in the midst of all the shit it's trying to pull off at once. I realize there's a point to the whole film, but the film does a great job at pretending it doesn't have one. It almost feels like a fruitless endeavor because you don't learn anything about mental illness, you don't get any insight. Well actually you do get some insight, but you know when you get it, you get it, literally, on the last shot of the film. Basically the last shot sees Ben seeing a horse-drawn carriage going down the street, and then looking at the kid on the horse ride outside the supermarket. The whole analogy being that some people who are forced into taking medication by their friends and families sort of feel like they've been numbed, forced into a fake existence because how they really were, in this case the real horse-drawn carriage, was a little inconvenient for people. It's all about what's real and what's fake. And, while medication works for some people, like legitimately helps, for others, in this case Ben, it completely neuters the person that they used to be. They conform to being a "normal" member of society or else be looked at in a negative way. And that's a painful truth for some people. It's almost like Matthew Weiner was figuring out the movie as it was actually happening and he just got that one moment of clarity before the end of the film. It's actually very subtle, but the last shot is really well-done, because it does bring up the question. It would be even better if the film focused entirely on Ben's mental health issue, but a positive is a positive. But one negative would definitely have to be Terri's pregnancy subplot...what the fuck happened to it? They make mention to the fact that Terri and her husband want to have a baby. They even make a big deal out of it in one scene where an Amish guy tells her to pray to god to bring her a child. She then says what if she doesn't believe in god and then the Amish guy goes 'maybe that's why you don't have a child'. Which would be a complete dick move if god was real. Is he really that petty that just because you don't believe he is real, he will prohibit you from having children? What a dick thing to say, or do if you're "god", to a woman who desperately wants a child. Anyway, the point is that they spend so much time on this, and Terri's smoking habits, yet it doesn't really play a part in the long run. In fact, they completely forget about it...almost as if it didn't even happen. How could a guy, whose own show is known for its extreme attention to detail, and for his almost dictatorial running of the show, could let this one get through, if it wasn't really going to serve any purpose, is beyond me. The pacing of the film absolutely killed me. If you cut out most of Terri's stuff, which pains me since I like Amy Poehler, even though her character is poorly developed, the film would've flowed much better. Terri's side story doesn't serve any real actual purpose so it could've been completely cut out and it wouldn't have changed a thing. The film's "essence" would've still been the same, it just would've moved at a brisker pace. And I don't even think that's the only thing you could've cut out. This movie is just way too long for its own good. It doesn't have enough interesting material to justify how ridiculously long it is. It's just short of 2 hours, but it's a LONG 2 hours. This is a bad film, no ifs, ands, or buts about it. A decent enough cast simply isn't enough to save a script that's all over the place and can't really find its own place in reality, which is ironic, since that is one of the film's main themes. I did not like this film one bit.

Not the best film but I enjoyed it for the chemistry between the two main actors and it shows t hat Zach Galifianakis can actually be good at a serious role once in a while.
See Details