Assassination Nation
(2018)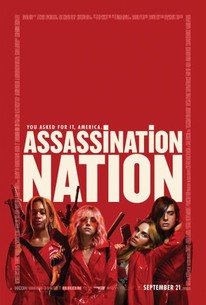 TOMATOMETER
AUDIENCE SCORE
Critic Consensus: Assassination Nation juggles exploitation and socially aware elements with mixed results, but genre fans may find it too stylish and viscerally energetic to ignore.
Assassination Nation Videos
Assassination Nation Photos
Movie Info
High school senior Lily and her group of friends live in a haze of texts, posts, selfies and chats just like the rest of the world. So, when an anonymous hacker starts posting details from the private lives of everyone in their small town, the result is absolute madness leaving Lily and her friends questioning whether they'll live through the night.
News & Interviews for Assassination Nation
Critic Reviews for Assassination Nation
Audience Reviews for Assassination Nation
Within the first fifteen minutes or so I thought I was really going to hate this movie. The falseness of it all felt so glaring. It was trying to be something it didn't naturally know how to pull off in the worst way. Once we get past the rather scrutinizing character introductions though, the movie levels up and becomes what it is without that aspect of attempting to be something it's not. Assassination Nation is an extreme satire, but it's a rather effective one. It's a film that will either grow better or worse with age, but my guess is this might be a pretty trippy to experience in ten to fifteen years. Yeah, this super-stylized take on the coming-of-age tale through the lens of our presently overexposed culture would have probably worked better as a limited series or something given the movie already feels like the core characters essentially walk through a handful of different vignettes which in turn means the movie begins to feel like it's dragging in that latter half, but it goes out with such a bang it's hard to argue one didn't have a blast. Side note: How does Pretty Little Liar's little Mike Montgomery now look like Zac Efron?!?!
Philip Price
Super Reviewer
½
Arthouse exploitation films have to ride a fine line in order to achieve success. And the truth is most examples of the genre alienate both the audiences who pay for sleezy midnight movies and the critics and cinephiles who stick to meatier pictures. Such is the case with Assassination Nation, an exploitation film with overt leftist and feminist leanings. When a hacker leaks the personal lives of a group of teenage girls living in Salem, Massachusetts onto the internet, the town goes on a slut-shaming witch hunt (SEE that they did there?), ostracizing them from society. Alt-right style militias form and take over the town, while the girls arm themselves and engage in revenge killings, and then open warfare erupts on the streets. It's hard not to compare Assassination Nation to Spring Breakers, another female-oriented arthouse exploitation film. But as where Breakers centered around shallow hedonists who engaged in violence, Nation centers around typical women engaging in violence, because they are labeled hedonists. The color palette is fairly vivid and reminiscent of Nicolas Winding Refn (think Drive and The Neon Demon). There have been complaints that many of the characters are thinly sketched. While I would have preferred a bit more characterization, for the most part they are more than adequate and quite interesting. The protagonist is played by Odessa Young and she conveys a complex teenager convincingly. Transgender actress Hari Nef has the most lively role in the picture and has to ride the line between a sympathetic victim and an amusing shit-talker. It's hard not to see that Assassination Nation is a film about Trump's America, the internet-based Alt-Right, and what that means for feminism and women in general. It is a tad bit over-the-top but that's a result of the heightened reality nature of the genre. Many may be turned off by the abrupt and somewhat flat ending, feeling that it's a bit anti-climactic. For once I have to agree with them. It does take a bit off the selling point of the movie, but as the proceeding 90% of the film was exceptional, I'll still recommend it to patient viewers who can stomach a fair bit of violence.
Joshua Sheetz
Super Reviewer
Assassination Nation is an explicitly potent and timely Movie of the Moment; it's a modern "Monsters Are Due on Maple Street" for the Age of Trump, exposing the fissures in our society, primarily the elements that prey upon, police, and punish women. The film is brimming with female rage that you may leave shaking. It's a movie that wants to grab you and scream its message in your face, and that will be off-putting to several, but the overall experience was so stimulating, so ambitious, so affecting, and so emotionally cathartic, that I wanted to howl back, now championing this audacious movie to whomever might listen. This is one of 2018's best movies and most vital statements. In Salem, four teenagers have become the most hated people in town. An anonymous hacker has been stealing people's private information, correspondence, and intimate pictures and uploading it for the public to digest. The town has gone mad with this feeding frenzy of new info and open secrets, leading to suicides, retribution, and murder. Lily (Odessa Young, a strong debut that reminded me of Olivia Cooke) and her BFF posse, Bex (Hari Nef), Sarah (Suki Waterhouse), and Em (Abra), become the main suspects and the town turns on them, looking for some good old fashioned vigilante justice. The film is messy and chaotic but these are not the usual detriments; it is exploding with things it wants to say about the hypocrisy and nastiness of our modern era. Early on Lily remarks to the audience, "I read this quote from a writer once who said 10 percent of the population are cruel, and 10 percent are merciful, and the other 80 percent can be swayed in either direction. I'm sure that writer has never seen 4chan or Twitter." At the end of the day, Assassination Nation will not allow its audience to take comfort even as it transforms into a female revenge thriller. Here is a movie that grabs you forcefully and says, "This is who we are now so what are you gonna do about it, huh?" When Twilight Zone creator Rod Serling wrote "Monsters Are Due on Maple Street" he was critiquing the veneer of civilization we clung onto through our "good manners," yet with the right pressure points we could just as easily turn on our fellow man with suspicion. The divisions in our current political climate often feel unable to be bridged; how does one reconcile a middle ground between one side that views gay people, trans people, women, people of color, and immigrants are human beings deserving of rights and protections and another side that laments the Way It Used to Be? There was one tense moment at gunpoint where a character that had previously led a literal lynch mob says, through convenient tears, that he's sorry. Oh, he's sorry he almost murdered an innocent classmate? Are there some decisions, some votes that you just can't erase with a "sorry"? When people are willing to drop all pretenses of humanity for tribal allegiance, then perhaps those people don't get away with an apology for their grievous harm. As the hacking begins, it's initially pinpointed coming from a Russian IP address, and I wondered if maybe writer/director Same Levinson (son of Barry) was making an additional comment about how easily these divisions can be exploited by an outside actor, as they were with the Russian propaganda missions of 2016 (and beyond). There's another culprit responsible for the dissemination and the eventual explanation for a motive is a pitch-perfect end note demonstrating the destructive nature of casual cruelty. The breakdowns in the Salem society stem from a deluge of secrets being unleashed and consumed without abandon. Everyone feels exposed, naked, some of them quite literally considering the treasure trove of hacked pictures, again drawing comparisons to celebrities like Jennifer Lawrence getting their intimate personal pictures broadcast. The expectations of privacy are malleable in a digital age of consumption, where the wider public is insatiable to know and see everything no matter the violation. The ravenous consumption of intimate secrets then foments into a mindless mob in need of blood. It's the social media horde that has to find a new victim to point the outrage machine at. This is best demonstrated by the school's principal (Colman Domingo), an early victim of the hacker. Included on his cell phone's gallery are nine pictures of his young daughter in the bathtub. Ready to take down another target, the community demands that the educator resign despite his pleas that they are innocent pictures but the crowd argues that all nudity is the same and therefore sexualized, especially when it depicts females. He's dubbed a pedophile and a child molester and every horrific term. He's pressured by the school board to resign and he faces down his hostile, accusatory crowd. I was so taken with this storyline and the personal anguish this man was going through that I wish we had gotten more time and appearances with him as a significant supporting character (this refrain will be referenced again). It's these early moments that made me think of the Salem of Arthur Miller's play, a bluntly obvious comparison point for a painfully blunt movie. The world of Assassination Nation is deadly to women. It's the kind of movie where male entitlement can turn a street harasser into a would-be murderer, which dredges up memories of Mollie Tibbetts, killed by a man who refused to accept that she didn't have to talk with him or acknowledge him while she was out jogging. The teen girls are pressured to be sexual beings by those who want to commoditize their bodies, and then they are puritanically demonized when these actions become public knowledge. I kept finding relevant correlations with so many moments and themes throughout the film, and I imagine many others will do the same. That is one of the charms of a movie bursting with so many things to say; each person may be challenged or affected by something different. The satire is unsparing and darkly comic but when it needs to be serious and disturbing, Assassination Nation can switch tones with ease. You'll be laughing at some violence, cringing at other examples, and possibly cheering by the end as just deserts are served. Having a multitude of tones and messages doesn't detract from the overall impact; it just means there are more storytelling avenues to chase and different emotions to elicit. Take for instance a scene that occurs after the end of the movie. We watch an African-American marching band lead by a lead female performer with a baton. They stomp in unison through the smoldering remains of a suburban neighborhood and play a brassy rendition of pop scion Miley Cyrus' "We Can't Stop." It's a song about youthful revelry but also a declaration of independence from the oppressive expectations of others ("It's our party, we can say what we want/ It's our party, we can kiss who we want"). Can this moment relate to the idea that a younger generation must keep marching onward in the face of tragedy after tragedy, that the racism and misogyny and mass shootings won't stop, that we're a constant shuffling funeral march in the unmovable face of broken politics? Is there reference to the expectation of African-Americans to perform through horrifying adversity for the entertainment of a white audience? Is this a celebration or elegy? It's a strangely beautiful coda that left me thinking even more, and if something that happens even after the end credits can stay with me, you know you have a worthy work of art. This is a movie that affected me deeply as a drama and, as it changes gears, a suspense thriller. There are some extended assault and torture sequences that will test the comfort level of every viewer. There is a healthy exploitation streak that runs through the film, but I found it far more meaningful than say the recent gonzo art flick earning overzealous critical raves, Mandy. Levinson's camera will adopt the male gaze that imprisons these teen girls with close-ups of gyrating movement and pouty stares. Some will characterize these moments as Levinson muddying his message by indulging in the same objectification he has been criticizing. I can understand that analysis but I think it goes deeper. I think the camera is adopting the objectification of the world and Levinson is asking us how we feel now that we've gotten to know many of these women. Are they so easily disposable once you widen the lens and see them as vulnerable, sympathetic and relatable human beings? The final act delves into full-on exploitation vengeance thriller and becomes a feminist rallying cry against the wider array of misogyny poisoning society. I imagine future generations will memorize Lily's final speech to the American public with the same degree of awed reverence as college-aged males do for Tyler Durden (a movie where its target audience missed the satire). It would be glib to simply dismiss Assassination Nation as an opportunistic RiotGrrrl response to the Me Too movement. This is a primal cry against the Age of Trump and feels like the first great film in response to our 45th president and all that his ascension has wrought. When the film does go into thriller mode, Levinson proves surprisingly adept. There is an extended tracking shot that swoops from window to window, floor to floor as we slowly watch a home invasion in progress, and it's exceptionally taut. The camerawork by cinematographer Marcel Rev (White God) is remarkably fluid, floating around its subjects in glides like the camera is serving as the eye of god. There's a mesmerizing quality to the visuals that transcends the array of genres the film effortlessly hops between. One minute you're caught up with the arresting, upside down camerawork leading to an explosion of violence, and the next you're taken with a surreal depiction of suburbia. The music selection is also on fire with choice tracks by K. Flay, Bishop Briggs, Joywave, Bams Courtney, Gracie Mitchell, Billie Ellish, and others. It alternates between guttural and polished, angry and contemplative, but it screams as loud as the film itself. I'll be surprised if I come across a better contemporary soundtrack to a 2018 movie. If there is a niggling detraction for the movie it's that we could have used more time spent rounding out the supporting characters. Besides Lily and Bex, the other girls are more defined by their relationships and proximity to our protagonist. I wanted them to open up more as characters. I also wanted even more catharsis by the end of the movie. After almost two hours of rampant misogyny and subjugation, I could have used even more lingering vengeance as the girls defended themselves from their attackers. Still, my biggest regret with Assassination Nation is that I didn't spend more time with the supporting characters and their individual personalities and trials. I just wanted more. Bristling with anger and feminine agency, Assassination Nation is a warning shot, a rallying cry, and a daring artistic statement about the role of women in response to the rise of Trump and his cronies. It's not subtle but that doesn't mean it isn't effective. It's blunt and extreme because our times are blunt and extreme, it's messy because our news cycles are messy, desperate to cover a cascade of catastrophes and scandals, it's using the language and imagery of exploitation cinema because that is too often the lens with which women are viewed in modern society, as achievements to unlock, as trophies to be won, and as a product for mass consumption. Levinson has put together a movie that has a possibility of being a seminal film, of being a touchstone of the resistance to the Trump Era and all that it stands for, but at its core it opens up with excoriating detail the pressure and punishment women must persevere through on a daily basis as targets of patriarchal entitlement and the dangerously fragile egos of dangerous men. In the recent weeks we've watched a possible Supreme Court nominee who might have committed multiple acts of sexual assault, and the response has been to "plow ahead" and appoint the man for a lifetime position ruling on the legality of women's rights without further inquiry or investigation. The film feels even more charged, relevant, and prophetic with each new allegation of wrongdoing being hand-waved away as mistaken identity, boys-will-be-boys moral relativism (more like rapists-will-be-rapists), and the same kind of nonsense that women have been subjected to since the original Salem and well beyond that. For every woman fed up with the status quo, Assassination Nation is your movie, and for every man whom needs a feminist lesson with an extra dose of Purge-style bloodletting and vengeance, here is a brazen and affecting statement. Assassination Nation is the movie of the moment and it's a knockout. Nate's Grade: A
Nate Zoebl
Super Reviewer
Assassination Nation Quotes
There are no approved quotes yet for this movie.