At the Sinatra Club
(2010)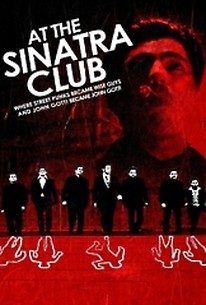 AUDIENCE SCORE
Critic Consensus: No consensus yet.
At the Sinatra Club Videos
At the Sinatra Club Photos
Movie Info
The true story of notorious mobster John Gotti's rise to power in 1972, when he assembled members of five warring crime families to pull off the heist of a lifetime. In an era where tensions among gangsters was at an all time high, the only place they could gather in peace was the Sinatra Club. For nearly two decades the streets had been bathed in blood. It was the perfect opportunity for a young unknown to make his move. John Gotti (Danny Nucci) was a gangster with true ambition, and a plan to reunite the most dangerous criminals of his time. Carefully selecting a member of each crime family, he plotts to rob an armored truck of a fortune in silver bullion. If they manage to pull it off, they will all be rich and the criminal underworld will be reunited; if they fail, they will most certainly wind up dead.
Rating:
NR
Genre:
,
Directed By:
Written By:
On DVD:
Runtime:
Studio:
WARNER BROTHERS PICTURES
Critic Reviews for At the Sinatra Club
There are no critic reviews yet for At the Sinatra Club. Keep checking Rotten Tomatoes for updates!
Audience Reviews for At the Sinatra Club
Surprisingly worthy viewing for organized crime buffs. Be forewarned low production and acting values abound; where else will you find a film where the executive producer doubles in a role as a working girl? It appears that the funding for this low-budget project comes from product placement fees provided Rheingold beer - not only mentioned and placed aplenty, but also awkwardly presented as the topic of an extended soliloquy by the main character. Rheingold was once a quite popular MidCentury brew in New York City, now it's a brand that investors are trying to reboot. Every number in the soundtrack is an excellent pick; too bad the budget required they be delivered as covers. Very poor covers. So it's all about the story here. And the story appears to be mostly true, mish-moshed together from the life experiences of Salvatore "Ubatz" Polisi, who ran a small gambling backroom in Queens in the early 1970s. His "Sinatra Club" backroom was a frequent haunt for numerous gangsters, giving Polisi the inside dope on some juicy backstory regarding the lives of a younger John Gotti and Tommy DeSimone, among others. Though the acting doesn't deliver it to the screen, it's actually pretty colorful storytelling. The centerpiece is the building and execution of a silver bullion heist, but there's subplots including Polisi's romantic involvement with Jane, a Park Avenue dominatrix - a subplot that is only tangent to the truth. Still, most of the facts presented here are apparently mostly faithful to history. The last ten minutes of the film shines, as Polisi reveals the long-term outcomes of each of the club's 'characters.' When the real Polisi materializes at the bar, to look over his shoulder at each of his bygone pals, it's the most engaging moment delivered by the entire film, rewarding the viewer's patience. If only this screenplay and soundtrack had been properly funded, the film might have become a gangster classic. And it's been a long time since audiences have seen one. But the story's still worthy - and worth the time of those who are interested in such. Mangia!
TonyPolito Polito
When I 1st started watching At The Sinatra Club I expected to hate it but after the movie was over, I was truly suprised that I even enjoyed it all.it's not the world's greatest movie but it is entertaining
Brody Manson
Super Reviewer
At the Sinatra Club Quotes
There are no approved quotes yet for this movie.