Atomic Blonde
(2017)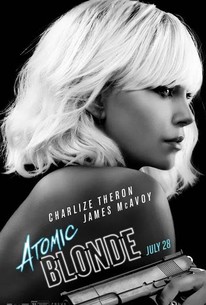 TOMATOMETER
AUDIENCE SCORE
Critic Consensus: Atomic Blonde gets enough mileage out of its stylish action sequences -- and ever-magnetic star -- to make up for a narrative that's somewhat less hard-hitting than its protagonist.
Movie Info
A high-stakes, global action-thriller that takes place in the city of Berlin, on the eve of the Wall's collapse and the shifting of superpower alliances. Charlize Theron ("Mad Max: Fury Road") portrays Lorraine Broughton, a top-level spy for MI6, who is dispatched to Berlin to take down a ruthless espionage ring that has just killed an undercover agent for reasons unknown. She is ordered to cooperate with Berlin station chief David Percival (James McAvoy of "X-Men"), and the two form an uneasy alliance, unleashing their full arsenal of skills in pursuing a threat that jeopardizes the West's entire intelligence operation.
News & Interviews for Atomic Blonde
Critic Reviews for Atomic Blonde
Audience Reviews for Atomic Blonde
Atomic Blonde is yet another exercise of style over substance. These can be considered masterful for certain films (The Neon Demon) or borderline mediocre for others (Only God Forgives). Unfortunately, I found this to be in the latter category. Yes, I was ever so slightly underwhelmed. I wanted more but everything felt so restrained, like being tied up by Charlize Theron...view that as good or bad entirely up to you. Lorraine, the damn sexiest spy that ever lived, is sent to Berlin to retrieve a list of agents from an individual known as "Spyglass" in which she meets up with fellow station officer David Percival. But, as with most spy films, we've got a whole lot of backstabbing and a whole lot of tape recording. Penned the female John Wick, Atomic Blonde has several beautifully crafted action scenes and I'm sure everyone who has seen it will agree that the stairway fight was possibly one of the best scenes this year. Edited to look like one long take, it was flipping majestic to watch. Charlize Theron, as we all know, is sexy, sassy and a badass. She's no different here, it's as if heaven sent down an action Goddess...in the form of Theron. Perfection, this was her film and she owned it. Having said that, her character is either consuming alcohol, smoking or submerging herself in an ice cold bath...so maybe not perfect? James McAvoy and the rest of the supporting cast were good. Adored the 1980's Berlin setting and the soundtrack was ace. I admired David Leitch's style once again, great use of neon lighting. All of this is great but one problem, the plot was so so so dull, monotonous, lifeless and dare I say boring? Urgh, I wanted to love this but I couldn't. It was such a generic boring spy story that I practically forgot about it as soon as I left the cinema. That, is not a good thing...at all. Also the narrative for the first half was all over the place, switching back and forth constantly between scenes was rather jarring. Disappointing in the script department. Apart from those massive blunders, it's actually not too bad. Just...underwhelming.
Luke Andrews
Super Reviewer
½
It's stylish, it's funny and it's brutal. Everything you want out of a comic book thriller!
Film Crazy
Super Reviewer
½
For the most part, it has finally become an equal playing ground between males and females when it comes to leading roles in Hollywood productions. This is great and all, but just because you can please your audience in that regard, does not mean the film meets every requirement. Personally, I left this film not quite understanding where some of the praise is coming from, because I found myself incredibly bored throughout the majority of the moments that people are finding interesting. Atomic Blonde is definitely impressive in many ways, but the way of telling its story feels completely jumbled. With such a cool premise and such an awesome leading-lady in Charlize Theron, you'd think this would be a film that's unanimously loved, but here's why I feel it's a mess. It's nearly impossible to not compare Atomic Blonde to John Wick, as the styles are very similar and the trailers make it out to be in the same vein, but they are very different films, so please don't be fooled by that. A film doesn't have to be non-stop action in order to impress, but when that's what it promises, only to have the majority of the film involve interrogation scenes that reflect on when she was a badass, you're misleading your audience. It's not that I hated watching this film, but unlike a John Wick that gets straight to the point, this film felt very bogged down, trying to complicate itself in twists and turns. The excitement level felt absent, at least to myself. Without a doubt, you will walk out of this film remembering the action sequences, because they are incredibly choreographed, but that's not quite what I will remember this film for. It's very unique style (almost like a music video) stood out to me, but I'm not sure if that's a positive or a negative quite yet. Easily, the most impressive aspects throughout this film were the ways the camera was used throughout the intense moments. There are multiple occasions where the film makes you think you're watching something in one continuous take, making the audience grab the edge of their seat, but the most disappointing thing about this film is that Charlize Theron doesn't get enough time to shine. I'm all for a film trying to explain itself to the audience if its premise is too complex to understand through visuals, but this film shouldn't have had to do that. The structure of this film is that Lorraine Broughton (Theron) is in an interrogation room, spilling her recent past. This took away any stakes of whether or not she was going to make it out of the film alive, as well as making each action sequence feel less impactful, especially when some of them are intercut within the action. At its core, this is an investigation film, trying to uncover a murder, while also lending a hand in the smuggling of a family across the border. If the film was presented in the present and followed these people in real time, it would've made for a much more engaging piece of cinema in my opinion. In the end, Atomic Blonde is the type of movie that could've been so much better than it was. The pacing is off and it definitely could've benefitted from a shorter run time. The editing choices are jarring, the action sequences are slim to none, and the pacing is all over the place. There are elements of a great film in here somewhere and the action that is presented is apples-worthy, but I couldn't find much else to enjoy about this film. It throws a few twists at you in order to keep you engaged, but the twists are already presented earlier in the film if you're paying close attention, so I found no stakes throughout this movie whatsoever. Atomic Blonde may please some viewer, but I found it incredibly slow. It's a rental at best.
Atomic Blonde Quotes
There are no approved quotes yet for this movie.
Discussion Forum
Discuss Atomic Blonde on our Movie forum!