Augustine
(2013)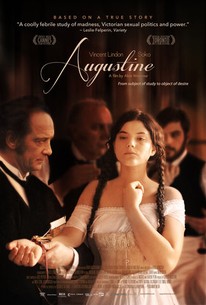 Movie Info
After suffering an inexplicable seizure which leaves her paralyzed on her right side,19-year-old illiterate kitchen maid Augustine (27 year-old singer-turned-actress Soko in a break out performance), is shipped off to Paris' all female psychiatric hospital Pitié-Salpêtriere which specializes in detecting the then-fashionable ailment of 'hysteria'. Augustine captures the attention of Dr. Charcot (Vincent Lindon, Mademoiselle Chambon, Welcome) after a seizure which appears to give her intense physical pleasure. Intrigued, he begins using her as his principal subject hypnotizing her in front of fellow doctors - as she displays her spectacular fits in lecture halls - and eventually blurring the lines between doctor and patient. (c) Music Box Films
Rating:
NR
Genre:
, , , ,
Directed By:
Written By:
In Theaters:
On DVD:
Runtime:
Studio:
News & Interviews for Augustine
Critic Reviews for Augustine
Audience Reviews for Augustine
This slow and subtitled French film based on actual events won't be one many are going to out-right enjoy although I found it to be rather interesting as I find its subject matter -- 19th century female hysteria -- to be most fascinating. The film is about Augustine, a young French housemaid (French singer/actress Soko), who suffers a debilitating seizure and is thus admitted to a Parisian psychiatric hospital and treated by renown physician Jean-Martin Charcot (Vincent Lindon - Bastards). In a medical field that was dominated by men, it was (frighteningly) common for any woman who experienced something that a man couldn't easily explain/understand to be diagnosed with "hysteria". If a woman acted in any manner that society found confusing or objectionable, she was a "hysteric" who could find herself subjected to some horrifyingly abhorrent and offensive "treatment" at the hands of men who claimed a medical interest in her well-being. The time period and understanding of this predominately female ailment IS fascinating; but I think a better film would have focused more on the doctor and his evolving understanding of hysteria over the years following his time with this one patient; but that is not what we are given with Augustine. Again, this is hard to "enjoy" but it is one that could hopefully shed some more light on this bizarre chapter of modern medicine.
Thomas Williams
½
"Augustine" is the (fictionalized) story In the late 19th century of a real neurologist, Jean-Martin Charcot (Vincent Lindon), who was exploring a cure for 'female hysteria' using hypnosis and the science of the nervous system in Paris. Two years ago there was a (fictionalized) story from Britain about a real physician Mortimer Granville, who was exploring the cure for female hysteria in the late 19th Century, with a film called "Hysteria". The latter was a romantic comedy and the former a dark drama. "Augustine", the title character played by a French singer-actress Soko, is dark in more than the screenplay by Alice Winocour, who also directed, with extraneous scenes and not enough explanation of what caused Augustine's hysteria (except maybe that at 19 she still hadn't menstruated) or how Charcot cured her. He seems to have been a dour 'showboater' who didn't have feelings for anyone which makes the one scene he does show feeling fall flat. He uses Augustine for demonstrations and to acquire funding for his studies while she is being awakened to her sexuality and falling in love with her doctor. The photography by George Lechaptois, certainly under the direction of Winocour, is too dark in many scenes to the point that you really have no idea what is going on and, in some cases, who are in the scene. Lindon is cold, showing very little feeling even to his wealthy wife Constance, played on just the right key by Chiara Mastroianni while Soko embodies the 19 year old illiterate, voluptuous Augustine. Most of the other actors play minor roles with Olivier Rabourdin, playing the medical hypnotist working with Charcot, the only one with enough screen time to be noticed. Roxane Duran, playing Rosalie, a friend of Augustine's at the beginning of the movie, is forgotten almost as soon as Charcot comes on the screen, and you forget she was in the movie. "Augustine" does accomplish the fact that you want to know more about Jean-Martin Charcot and whether Augustine is a real person sending you to google and bing them, in which case there is no need to see the movie.
Martin Goodkin
The movie starts with Augustine(Soko), a maid, feeling unwell while preparing to serve that night's dishes. Still, the show must go on, which turns out to be a mistake when she has a seizure on the dining room floor between courses. The following day when one of her eyes is still closed shut, her cousin brings her to a nearby hospital. Instead of a quick examination and treatment, Augustine is disappointed to hear that she will be admitted, and soon informed that she will also be expected to work. And as far as praying goes, she is told not to appeal to the usual person, but to somebody more local in the person of Dr. Charcot(Vincent Lindon) who finally takes notice of her when she has another seizure. "Augustine" starts well enough with its copious period detail, some implied like the level of ignorance, such as Augustine not knowing what menstruation is. Mostly the target is the patriarchy of the period, especially with women under the watchful gaze of the men.(And we all know the corset was the work of the devil, right?) As fascinating as this is and even with the great Vincent Lindon on the job, the movie never really catches fire until the climax when in quick succession and with the aid of a few well-timed furtive glances, the apple cart is not only upturned but pretty much also tossed down a flight of stairs before being hit by an oncoming vehicle.
Augustine Quotes
There are no approved quotes yet for this movie.