Autumn
(2006)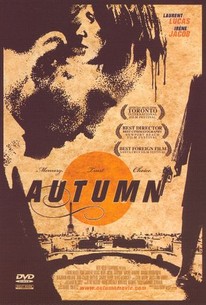 Movie Info
A conflicted hitman recently who has reconnected with his childhood soul mate finds his quest for redemption becoming increasingly complicated when the girl steals an important briefcase in director Ra'up McGee's stark crime drama. Jean-Pierre is looking to get out of the life of crime when he begins to rekindle his romance with the girl who captured his heart as a child and never let go. Though the love shared between the pair continues to burn brighter than ever despite their many years apart, the sudden disappearance of both the girl and a mysterious briefcase soon forces the reluctant criminal back into the underworld as he is forced to walk the fine line between protecting the woman he longs for and falling back into a life of crime.
Critic Reviews for Autumn
Audience Reviews for Autumn
½
i wanted to love this film, and i definitely liked it quite a bit, but ultimately it fell a bit flat. often good movies are made good through the details, and the details are where this film stummbled. the film was well shot and the story was great but it was ill-explained. i love thinking in movies but i had to think about things in this film that i shouldnt have had to think about because the pieces werent put together well enough. good flick however.
I'm not sure I really understood this movie. Whatever.
Autumn Quotes
There are no approved quotes yet for this movie.