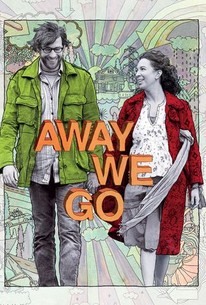 Away We Go
2009, Comedy/Drama, 1h 37m
192 Reviews
50,000+ Ratings
What to know
critics consensus
Built on a set of quirks and charms that are as noticeable as they are interchangeable, Away We Go is a sweet but uneven road trip. Read critic reviews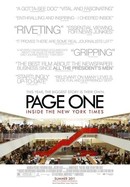 Page One: Inside The New York Times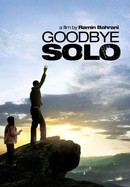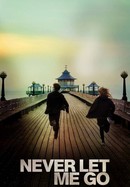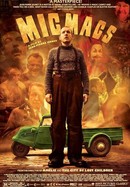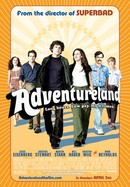 Where to watch
Rent/buy
Rent/buy
Rent/buy
Rate And Review
Movie Info
As they await the birth of their baby, a couple (John Krasinski, Maya Rudolph) travel across America in search of the perfect place to raise their family. During their journey, they share assorted misadventures and reconnect with old friends and relatives. The experiences and people they encounter help them define the word home on their own terms, possibly for the first time in their lives.
News & Interviews for Away We Go
Audience Reviews for Away We Go
I don't really know why I'm even starting with this, but I just saw the new trailer for Jordan Peele's Us (he wrote and directed Get Out, one of the best horror movies I've ever seen) and, now, I'm unbelievably pumped and excited for that one. I haven't gone to movie theaters in many, many years, but that's a movie I really would consider going to the theaters for. Ah, in a perfect world. Anyway, on to this, shall we? So, yea, I've never been a big fan of kids and the idea that some people try to drill into your mind that the idea of what a great life is is settling down, getting married to your sweetheart, having kids and growing old together. I hate that concept of happiness. You make your own happiness I've thought, whether that involves partners and kids or it doesn't, then that's up to you. I also believe that human beings were not emotionally equipped to actually spend their entire lives with just one person. And I'm not saying that it can't be done, but I just think that, for most humans, having several partners throughout your life that you learn from helps you grow and mature as a human being. That's what I've always believed human relationships should REALLY be like. Regardless, that's not to say that it's not for me, at least the whole monogamy thing. I know that kids aren't gonna be my thing. I don't like kids, I've never wanted kids and, if I had one, I'd probably be a shitty dad. Not because I'm purposely shitty or negligent, just because I wouldn't know what to do. I suppose that's neither here nor there nor is it the reason that I'm writing this review. I just thought I'd give my two cents on this whole parenting and monogamy thing before moving on. I guess that, in a lot of ways, there's a lot that is familiar to someone that has seen more than five independent dramedies throughout the years. And I think that's why I'm feeling particularly conflicted about this movie. In many ways, it's kind of a lovely exploration of two thirtysomethings struggling with adjusting to the fact that their life, in about three months or so, is going to change forever with the birth of their daughter. So to help them adjust to this massive change, Burt and Verona go on this road trip to Phoenix, Madison (in Wisconsin) and Montreal. Verona's old boss and sister live in Phoenix. Burt has a cousin in Madison (and also a job interview there). And some college buddies of Burt and Verona's live in Montreal. So, in short, they're looking to live close to someone that they know as Burt's parents are moving to Belgium for two years a month prior to the birth of their grandchild. I guess that, in a lot of ways, the film is more about facing your fears head-on than anything else. Verona's parents died when she was 22 (it's never known how) and, in the years since their deaths, Verona has never really talked about them to anyone, not Burt and not even her sister. This, I feel, probably fuels Verona's uncertainty about becoming a mother for the first time. By looking outwardly, at people she knows, and wanting to move closer to them, I think she believes it's gonna be easier for her to raise this child, since she has someone she can count on. Perhaps not to raise her child, but just so that she doesn't have to do it all alone. Not that Burt isn't gonna help, naturally, but I imagine she's thinking about it in a way that, honestly, I could never really understand. Of course Burt goes through his own fears as, later on in the film, his brother's wife abandons him, leaving him with a young girl to raise and that sends Burt into a panic, believing that that might happen to them. So, honestly, I really do like this film's story. It's simple, yes, but it's definitely got compelling and intriguing characters. Yet, for some reason, there was never really anything spectacular about this movie, outside of Maya Rudolph's and John Krasinski's performances, which were great. I really do think that John and Maya felt like an actual couple because the characters were written as such and, of course, because there was great chemistry there between the two. But there's just nothing else about the movie that truly shines above its relatively unremarkable script. And I don't mean that it's a boring movie, because it's not boring in the slightest. I just mean unremarkable in the quite literal sense, there's nothing remarkable here. There's a lot of good here, yes, but nothing that makes this truly a must-see independent dramedy. Perhaps I was spoiled by Little Miss Sunshine. Not that I, of course, expected this to be that. They're different movies made by different people for, really, different audiences (even if both films fit within the same genre). The ending is definitely emotional and bittersweet, particularly for Verona as she finally faces her fears head-on, and it's definitely an earned ending. The 'sentimentality' doesn't feel forced or ham-fisted. Burt and Verona truly deserve this ending. I just think that the narrative travels a path many others have traveled without truly innovating or excelling at it. It's a good movie, don't get me wrong. Burt and Verona are strong characters and the lead actors are great together. It's just that everything else around them ISN'T great and that's where it 'falls apart'. I put this in quotation marks, because I don't want it to seem like this is a bad movie. I can't stress that enough. With that said, however, I bought this for $5 some years ago (actually bought another one along with this, A Serious Man I believe, for a combined $10) and I don't regret my purchase, but if you know me and you want me to lend it to you, then I gladly will. This isn't a movie that you spend money on, honestly. It's something that you watch, you enjoy, but it's not something that's gonna stick with you in the long-term. I'd recommend it in the case you know someone or if it's on cable TV. Good, but not outstanding.

Funny and cute, it has heart, good performances and crazy supporting characters.

Sam Mendes' 'Away We Go' is a new, refreshing step for the director that is very welcome. He and his actors create a perfect sense of pathos and charm that captures the viewer. John Krasinski exudes quirk and carries most of the comedic work in the film, while Maya Rudolph seems to perfectly ground his eccentric character. Both are the reason this romantic comedy exceeds all expectations.

From the funny opening montage of John Krasinski and Maya Rudolph having sex, away does this film go. "Away We Go" works extremely well as a dramedy, having a nice balance of hilariously ridiculous situations to affecting moments of tenderness and passion, acted with great depth by Krasinski and Rudolph. There is this understated feel to how they go from city to city, connecting with various people they know and getting thrown into some awkwardness as they interact with these other couples, and more importantly, coming to touch with their selves, as individuals and as a couple. As Verona says, "We are completely untethered Burt." With an en pointe direction by Sam Mendes and script by Dave Eggers and Vendela Vida, support from the brilliance of Maggie Gyllenhaal, Allison Janney, Catherine Oâ(TM)Hara, amongst others, and complemented by the heavy-hearted music of Alexi Murdoch, "Away We Go" is a sentimental darling that will leave a sincere impression.
See Details