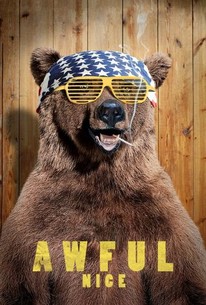 Awful Nice
2013, Comedy, 1h 28m
9 Reviews
100+ Ratings
Where to watch
Rent/buy
Subscription
Subscription
Rent/buy
Rate And Review
Movie Info
Costly mishaps and misadventures hamper two quarreling brothers' mission to renovate and flip the lake house they inherited from their recently deceased father.
Audience Reviews for Awful Nice
The main problem with this film is that it pretty much is the same thing from beginning to end. It's Jim and Dave getting into fights over stupid shit, making up, then fighting again. Rinse, repeat. There's something here about the bond between brothers and how, even if one of you is a massive fuck-up, there's still that certain something that draws you to one another. That's fine and all. Of course, it's lost in the midst of all the one-joke approach to the whole film. Though funny at times, it gets really tiring to watch the characters doing the same thing over and over and over again ad nauseam. The highlight of the film would definitely have to be Christopher Meloni. I don't think Meloni gets as much credit as he should for his comedic acting. He's made appearances in the Harold and Kumar films, though his appearances were always overshadowed by Neil Patrick Harris' incredible cameos. But this guy is a great comedic actor and he's easily the best part of the film, in my opinion. The leads are fine, there's a certain chemistry they have with each other, like they could be actual brothers. But, as mentioned, the movie has them do the same thing for 90 minutes. After, about, the third fight between the brothers, the joke definitely overstays its welcome. This just never really got going as a movie to be perfectly honest. It's definitely got the set-up of a movie, but it doesn't play out like one. It feels unfinished. Like the script wasn't revised, and improved upon, before actually filming it. It's ok though, it's not any good, but I have seen much worse. It's just a lazy film. Only watch if you've watched absolutely everything else that Netflix, or any other streaming website that has this movie, has to offer.
See Details