Azumi 2: Death or Love
(2005)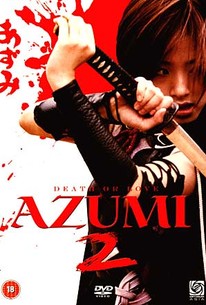 AUDIENCE SCORE
Critic Consensus: No consensus yet.
Movie Info
The effects of schizophrenia reverberate through three generations of educated Indian women when a woman is diagnosed with the psychotic disorder and those around her, including her westernized daughter, struggle to maintain normal lives.As Azumi 2 gets underway, remaining assassins Azumi and Nagara set out in pursuit of their final target - the notorious Masayuki Sanada. But Sanada is fully prepared for the confrontation; he's hired the dreaded Koga Ninja Clan to dispense with Azumi, and they won't stop until their mission has been completed. The Koga Ninja Clan aren't the only foes that Azumi has to worry about either, because Kiyomasa's failed retainer Kanbei is out for blood as well. With enemies closing in from all sides, things are beginning to look decidedly grim for the assassin forced to choose between love and duty. ~ Jason Buchanan, Rovi
Critic Reviews for Azumi 2: Death or Love
There are no critic reviews yet for Azumi 2: Death or Love. Keep checking Rotten Tomatoes for updates!
Audience Reviews for Azumi 2: Death or Love
Following on from the first film we see our female assassin hunted down by hired ninjas for her handy work. She is on her way to complete the mission set out in the first film and assassinate 'Sanada' (her finale target), along the way she meets up with a group of bandits who assist her but this also allows spies into the equation. This is the basis for the plot very simply laid out. I must say I got the feeling this film may have been one big long film that was cut into two on purpose, the whole thing filmed in one go. The continuity is very good with both plot and certain actors returning and you do get a fairly epic feeling in the scope of things. Aya Ueto in the lead is still cute as hell while Tak Sakaguchi seems to be in every modern Japanese flick with any hint of action. To be honest the film isn't entirely different from the first in the terms of what happens. Its more sword slashing, blood spurting and many similar yet nicely created characters, it also visually appears identical to the first hence why I think it was all made at the same time. Not exactly worthy of an epic award but certainly well made with some grand action sequences to please the eye. Like all Japanese Samurai/ninja films it has a lovely period feel to the proceedings with small segments of fantasy or myth. These do add to the charm of the film but also take away from it. The story is based on a manga comic but there are so many of these adaptations from Japan you do get a strong sense of deja vu half the time. The main plus points in this film (like many other films from the land of the rising sun) are the characters. Big, bold, colourful, exciting, athletic and overflowing with emotions whilst the flash of their Katana's glint in the sun at you. The plot is pretty much the same old search for revenge, truth or justice motif with nothing really new to offer in terms of action but it does the job well.
Phil Hubbs
Super Reviewer
Azumi 2: Death or Love is a serviceable sequel to the movie that preceded it, but it's not quite as interesting the second time around. Where the first movie dealt with the cyclical carnage of war and the sacrifices people make for questionable higher goals, Azumi 2 is more of a straight-forward action movie that continues those themes as earnestly, but less effectively. After the events of the first movie, the young assassin Azumi continues her mission to find and kill the last remaining warlord that seems determined to plunge feudal Japan back into war. She's accompanied by her last remaining companion, still haunted by the deaths of her friends, and sought by a vengeful warrior who wants her death above all things. Of course, she also finds new allies and hidden enemies on her journey. This movie mirrors the plot of the first in many ways, but it's just not quite as good. The battles aren't as fun, and the story isn't as captivating. The attempts at poignancy and don't ring as true as the first movie, either. Aya Ueto is still an irresistible heroine and I recommend to anyone who enjoyed the first movie that they should check this one out, too. Just keep in mind that the change in directors from the first movie was not exactly an improvement.
½
Shusuke Kaneko's follow up to Kitamura's Azumi is an action adventure that falls flat.
The story between this and the first installment is continuous, and so are a number of the characters; however, it is easy enough to follow and catch up on to make this watchable without having seen the first.
The 108 minutes aren't interesting enough to fully impress. The main characters need no build up at this point and most of the new supporting characters aren't amusing. There is a lack of quirkiness to them. As for the story, it is rather uneventful.
There is an ample amount of action and while the choreography is good, the fights aren't intense. Not even the special skills of the Ueno clan ninja warriors are enough to fire up the confrontations.
The star of the show, Aya Ueto, passes as a female assassin and Chiaki Kuriyama and Reiko Takashima also amuse as female ninjas. There are also a number of cast members that return from the first film, but as totally different characters.
Azumi 2: Death or Love lacks style and feeling, but it is watchable.
Azumi 2: Death or Love Quotes
There are no approved quotes yet for this movie.
Discussion Forum
Discuss Azumi 2: Death or Love on our Movie forum!